June 6, 2019
Creative Gardening Pots
Container gardening is a great way to grow plants in a limited space. Although it's relatively low-maintenance and does not require a huge time commitment, the cost of containers can quickly skyrocket, especially if you want something more attractive than standard plastic pots.
Here are some ideas for low-cost, unusual replacements that look great in any yard:
Old boots
Old, worn-out boots make a great container for carrots and other plants that grow a long tap root. And the older and leakier the boot, the better it is for drainage.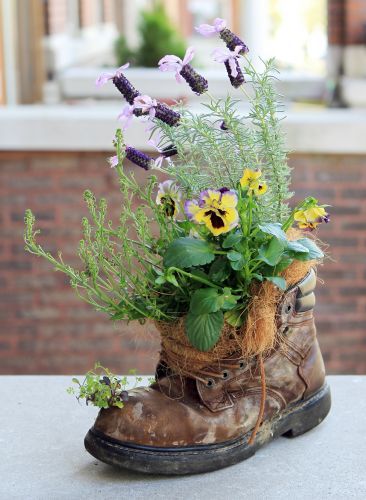 Kitchen sink
Thanks to its depth and in-built drainage, an unwanted kitchen sink is a perfect size for growing zucchini. Alternatively, plant self-seeding wildflowers for an ever-changing blaze of colour throughout the summer.
Watering can
A watering can that's sprung a leak can still be useful. Smaller ones are perfect for low-sprawling herbs such as thyme, while larger ones look great filled with bright red poppies.
Wheelbarrow
An old wheelbarrow that's carried its last load can have a useful retirement as a dramatic planter for summer blooms. It also makes a handy and compact herb patch, with the herbs at a perfect height for picking.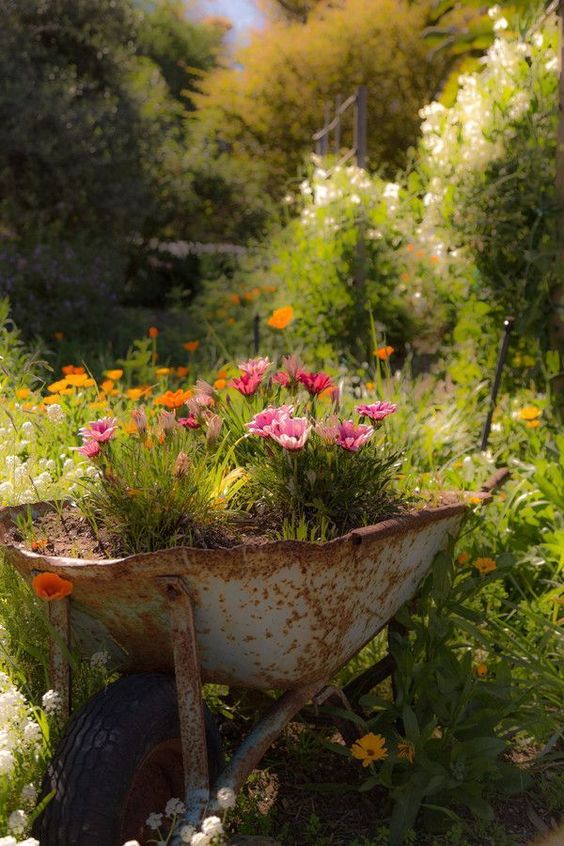 Tires
A stack of worn tires is ideal for growing potatoes, as you can add height and earth as needed to get a bigger crop. Or, if you don't like the looks, plant with trailing flowers to disguise the tires while still keeping their useful height.
Trash cans
Traditional metal trash cans look surprisingly good planted with sprawling flowers trailing down the sides. And the more weathered and rusted they are, the better they contrast with the blooms.
Kitchenware
Worn-out or rusting pots and pans make excellent miniature planters once their time in the kitchen has passed.
Pottery
Chipped or cracked pottery can find a new lease on life in the yard. A collection of different shapes and sizes clustered together gives great variety to a small space..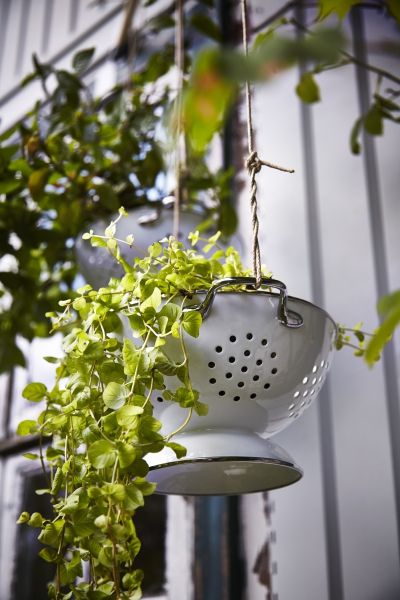 Colanders
Colanders are ideal for growing herbs and other plants that love well-drained soil. They're also good as hanging baskets thanks to their ready-made handles and convenient bowl shape.
Container gardening is a great way to enjoy growing plants without too much digging or landscaping. And if you get a little creative with your containers, even a tiny yard can look amazing.
See also :
Recycle furniture and other items for a unique style!
Create a welcoming yard for birds
Collecting rainwater for your garden