November 5, 2021
Everything You Need To Know About Wall Mounted Electric Fireplaces
Wall mounted electric fireplaces combine the sleekness and practicality we crave in today's interior designs. They have many advantages and come in a variety of shapes, sizes, styles and materials.
What is a wall mounted electric fireplace?

This complementary heating device uses electricity, is mounted on the wall with an installation bracket and plugs into a standard socket. It generates heat, simulating embers and flames to give it an authentic feel. Ultra slim and contemporary in design, this fireplace fits in smaller spaces too (living room, bedroom, bathroom, entrance hall, etc.), either horizontally or vertically. It is also suitable for a waiting room or a consultation room. It can be mounted on any type of wall, just like a TV screen. Many models now come with a touchscreen so you can enjoy more features! You can even set it to the "flames only" feature without heating.
Two types of heating are available for electric fireplaces: hot air and quartz infrared (radiant). The hot air setting requires a fan, while radiant heating produces heat from infrared light. Their heat output is calculated in BTU, while the electrical output of the device is calculated in watts (e.g., 750 watts, 1,500 watts). For reference, a 400 sq. ft room requires approximately 4,600 BTU of heating output. For more information on electric fireplaces.
Benefits
Since it doesn't produce any actual flames or carbon monoxide, it's safe for children and pets. The protective glass panel is designed not to overheat. It's also very eco-friendly.
The sleek and modern design easily blends into any room of a home and adds a touch of charm. You don't need to hire a contractor to install it, since it doesn't need ventilation (chimney) or piping. You have a choice of sizes (up to 100 inches in length), and some vertical wall fireplaces are only 16 inches wide.
The low energy consumption is a notable advantage; for day and night lighting, heating controls, and multicoloured "flames," LED lights can be used. A thermostat regulates its temperature to help reduce the monthly energy bill. You can increase the heat in a single room without heating the entire home.
The maintenance required when compared to a wood- or gas-fired fireplace is much more manageable, and dismounting it is easy when moving—just unplug it. Most models come with a remote control so you can turn it on or off and adjusting ambient heat emission and light intensity at a distance.
What to look for
Before deciding on a model, there are 5 key aspects to consider when it comes to wall mounted electric fireplaces: heat output, combustion chamber depth, surface area of protective glass, lighting options and estimated cost per year. Style plays an important part too, since it must seamlessly blend into the overall look of the room.
Recent models of the wall mounted electric fireplace offer a choice of two heat settings: gentle heat (750 watts) or high heat (1,500 watts). Gentle heat is best for a small room. If the fireplace is in a larger, central room and you want to heat more than just that area, the high heat setting is best. A 1,500 W appliance can heat a room of about 1,000 sq. ft.
A larger combustion chamber, especially one with LED technology, will provide more realistic flames. Newer models also come with a choice of flame colours to match the desired ambience. Keep in mind that annual cost can vary greatly depending on the location of your home, your usage of the device and your electricity rates.
This article can bring certain aspects to light when considering an electric fireplace.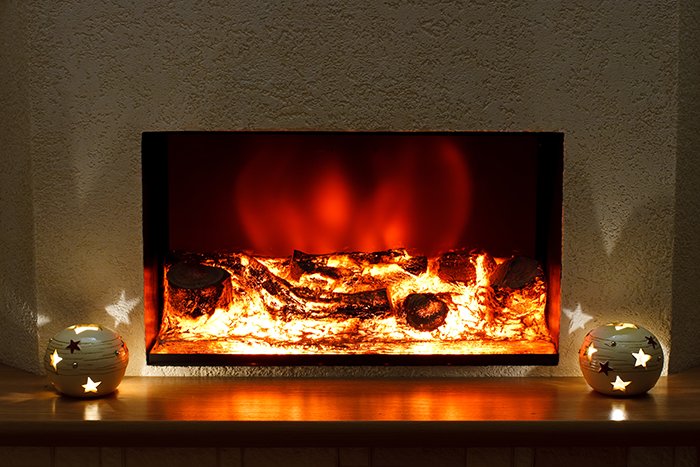 Some safety precautions
When installing the support bracket (a metal plate with 8 holes), consider the weight of the fireplace to determine how many holes and fasteners must be attached. Be careful not to touch any exposed electrical wires in the wall and follow the installation instructions carefully. On a fibre cement, concrete or brick wall, use anchors designed for the type of surface.
Once the wall mounted electric fireplace is plugged in, simply press the power button to get it started. Before turning it on, check that the plug works properly. If you notice that your lighting flickers or dims while the fireplace is on, the circuit might be overloaded. Make sure that another appliance is not connected to the same circuit as your electric fireplace—especially if it's a high-powered appliance. Do not connect the fireplace to an extension cord, as they are not intended for high-powered appliances or permanent applications. If you need to plug in other appliances, it's best to install a new outlet that will only be used for your electric fireplace.
Brands and retailers
The market is brimming with wall mounted electric fireplaces for every style and budget. Brands such as Regency Skope, Napoleon, Paramount, Real Flame, Muskoka Sinclair and Dimplex are available in department stores across Quebec (Canac, Rona, Costco, Walmart, Wayfair, Canadian Tire, etc.). Whether you're buying a small or large fireplace, a model built into furniture, or a two- or three-sided model, you're guaranteed to find something that meets your needs. Don't forget to measure the dimensions of the area that you're reserving for the fireplace, so you can choose the model based on the space available.
Here are some features to help you recognize the different types of wall mounted electric fireplaces.
Single wall fireplace




This type of wall mounted electric fireplace has a glass panel, a combustion chamber and a control panel that is often concealed. It comes in a variety of sizes and features.



Double- or triple-sided fireplace




The double-sided or triple-sided electric fireplace requires special installation. The wall frame should be approximately eight inches thick. It works the same as the other types.



Furniture fireplace




Some electric fireplaces are built in to a TV unit, fan or other appliances and accessories. This one needs a lot more installation space, however.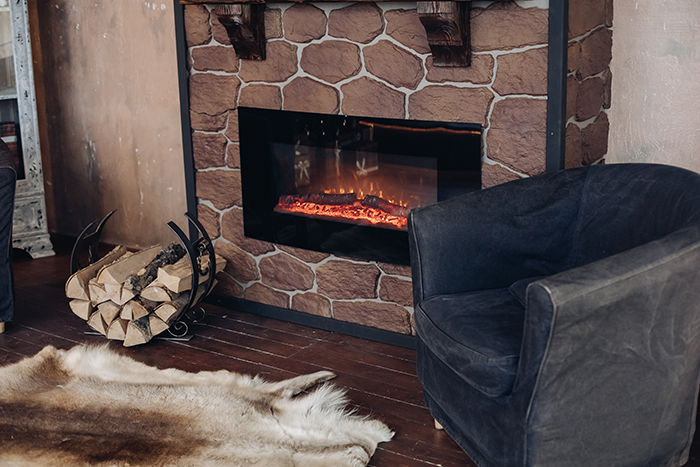 Maintenance
Here are some steps to maintain your appliance's effectiveness and appearance.
Glass panel: A microfibre cloth and soapy water is suitable for cleaning the glass. For a deeper clean, you'll need to remove the glass panel (follow the manufacturer's instructions) before cleaning. Avoid any abrasive products.
The interior chamber: Once the glass panel has been removed, it's easier to clean the interior walls of the fireplace. Dust them with a dry, lint-free cloth before putting the glass back in place.
Outside: Use a duster or a dry cloth to remove dust. Then use a soft, slightly damp cloth to wipe it down.
Vents: Sometimes dirt and dust can accumulate in the vents. To remove, use a vacuum cleaner tool (with the soft furniture brush) on the openings.
Bulbs: Follow the manufacturer's instructions to remove the back panel and access the bulbs. Remove old bulbs and replace with new ones from the same brand, as needed. An electric fireplace bulb can last up to 24 months.
The fan: Check the instruction manual to access the fan. Use a vacuum cleaner with a long flat nozzle to remove dust from the blades.
Simple to install and safe, the wall-mounted electric fireplace adds comfort to any home and creates a warm and friendly atmosphere.
---
Are you passionate about real estate? Subscribe to the Centris.ca newsletter now.
See also:
Interior design: Rethinking space
Choosing a Fireplace for an Environmentally Friendly Home