August 18, 2016
Get in Shape in Your Home Gym
It is becoming increasingly popular to set up a workout space at home. It's a way to exercise at any time of the day and keep in shape all year round. Your fitness equipment can be set up in a room that is arranged specifically for this purpose, or even in a small corner of the office. Here are some tips for setting up your home gym.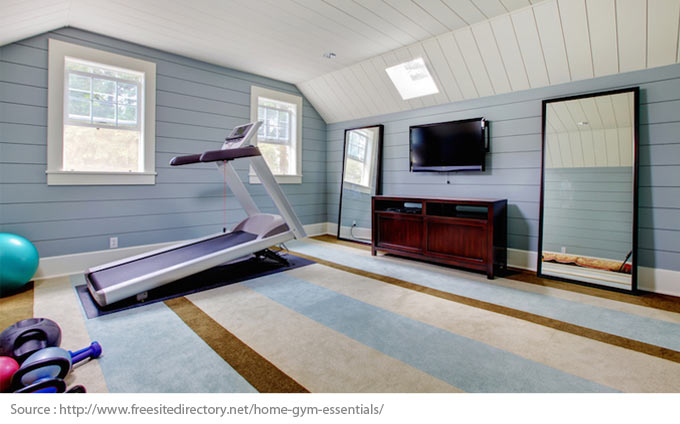 Why set up a training room at home?
Because it allows you to exercise at any time of the day, every day of the year. It enables you to schedule your workout time in a way that best suits your needs, in an environment that is set up according to your own preferences.
Which room in the house?
Ideally, choose a room that will be used exclusively for working out. If you don't have the space, you can also put your equipment in a corner of your home office or master bedroom. If possible, choose a quiet room such as a basement or garage. Regardless of where you put your gym equipment, it's important to keep the following tips in mind:
The ceiling must be sufficiently high to perform all movements;
Leave enough space between equipment pieces to train comfortably;
Ensure your floor is solid: each piece of equipment can easily weigh more than 200 lbs;
Good ventilation will ensure adequate air flow;
Choose a room with a window so that you have natural light.
How to decorate your gym area
Here are some points to remember for creating a pleasant and relaxing space:
Choose a room that is decorated in light colours, such as white, light grey or pale yellow, as gym equipment often comes in dark colours;
Set up a large wall mirror to make the space look larger and to see yourself during your training sessions;
Hang a large clock on the wall so that you can keep track of time;
If possible, choose a flooring surface that is soft and pleasant;
Optimize your space with furniture that allows you to store towels and other gym accessories;
Install a screen so that you can follow exercise classes on TV, or a radio so that you can listen to music;
Add a touch of luxury by having a small refrigerator or water fountain to help you keep hydrated.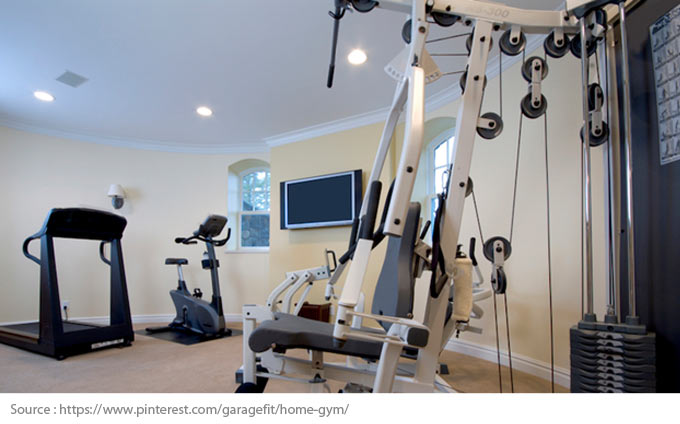 What type of equipment?
The choice of equipment depends primarily on the results you want to achieve, the amount of space you have for your equipment and the amount of money you want to spend on your fitness area. If you only have a small space, it's best to choose multi-function equipment.
Some of the essentials include a gym mat with accessories such as weights, ankle weights, a stationary bike, a treadmill or an elliptical machine that will work both your arms and legs. There are many options available – determine what works best for you!
Staying motivated
To stay motivated throughout the year, make sure your workout space is clean, inviting and set up in a way that makes working out enjoyable.