January 4, 2023
How Much Does a Heated Floor Cost?
Ah, the comfort of a heated floor! But how much does this cozy little luxury for our toes cost in the end?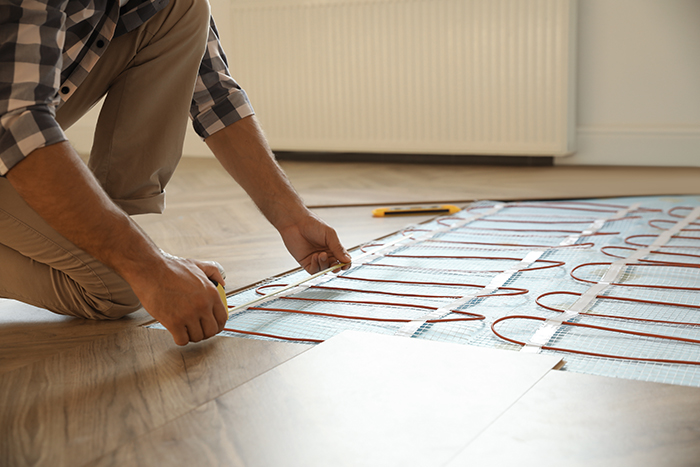 Popular for some time now in bathrooms and kitchens to avoid the shock of walking on cold ceramic tiles, heated floors are being installed throughout new homes, especially in family rooms and basements. Radiant floor systems can be installed under any surface … with the exception of hardwood which is too sensitive to changes in heat and humidity.
Two technologies are available: electric and hydronic floor heating.
Electric Floor Heating
Electric floor heating is relatively affordable. Installation does require a floor that is level. If it is not, self-levelling cement can be used. If you choose an electric floor heating system, you can expect to pay about $10 per ft2 (sq. ft.), plus installation fees if necessary ($50-60/hour). Electric floor heating that uses a mat is particularly easy to install: simply unroll it in the space provided. They are more expensive, however, at about $1,000 to $1,400 per 100 ft2, and can only be installed in rooms that have right angles.
Hydronic Floor Heating
Hydronic heated floors are simply floors heated by water and are more effective for large surface areas. However, the technology does require the installation of a boiler (gas or electric)or a heat pump which, of course, does not make it practical or affordable for a small bathroom, for example. The cost of installing hydronic floor heating is approximately $5 and $6.50 per ft2.
As for the alleged savings in heating costs of in-floor heating, they would be only from 3 to 10 per cent rather than the 15 to 35 per cent hyped by enthusiastic sellers. Of course, these savings are calculated based on the quality of the current heating system. The more recent and effective your system is, the less you will save by adding a heated floor. In many cases, it could take years of energy savings to pay off the cost of a heated floor… but deliciously comfortable years for little toes in the middle of January.
---
Are you passionate about real estate? Subscribe to the Centris.ca newsletter now.
See also:
Everything you need to know about electric floor heating
These kitchen floors will make you want to switch up yours now!
Can a smart thermostat reduce your home's energy costs?