May 19, 2021
How to set up a home gym
Pandemic or not, training at home is a great idea. It's convenient, economical and allows you to add short workouts to your day without taking up all your free time.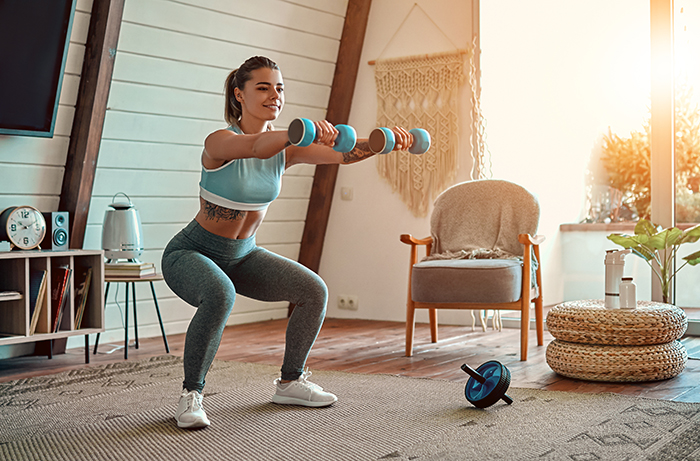 Are you short on space and money to set up a home gym?
Not to worry! Even if you live in a small space, you can set up a gym for very little. Here's how.
Choose the right space
The amount of space you need depends on the type of exercises you want to do:
If you have the space, designate a room for your home gym. A 10 x 10 ft. bedroom is ideal.

If this isn't possible, find a corner of a room, such as a living room or

garage

, where you won't be in the way of other family members or roommates.

If the basement is the best place in your home, make sure the ceiling is high enough to allow you to move around freely. A ceiling of at least 7 feet guarantees plenty of space. If you're tall, you will probably need a higher ceiling.
Important note: choose a place with electrical outlets nearby or easily accessible, because you may need them for equipment.
Setting up your home gym
Once you've found a space that feels good, you'll need to set it up.
Floor
In many cases, a yoga mat or exercise mat is enough.
If you prefer to cover a larger area, you can find interlocking vinyl or rubber tile flooring in many department stores.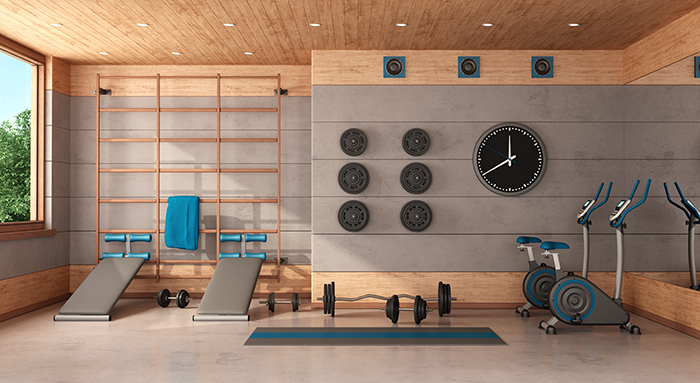 Mirror
Dancers aren't the only ones who need a mirror! In a gym, mirrors allow you to check your posture and your movements. This way, you can get the most out of your workout while avoiding injuries.
Storage
Browse the Internet or peruse Pinterest for all sorts of great ideas for home gym setups.
If you don't want to spend a fortune on storage for your exercise equipment, it may take a bit of imagination. A closet can prevent your living room from being cluttered with yoga mats and dumbbells. You can also hang your weights on the walls to keep the centre of the room clear.
Keep in mind that everything must be easily accessible so you don't have any excuses for skipping your workout.
What equipment should I buy?
Depending on whether your goal is to get into shape or improve at strength training, here are your home gym essentials:
a yoga mat or floor mat
an exercise ball for sit-ups and working your legs

resistance bands

to work your muscles

a jump rope for cardio

kettlebells

for strength training

dumbbells

and weights
Do you have the space and budget for equipment? If so, a dumbbell rack is a good idea. Another great option is a stationary bike, which doesn't take up much space and allows you to do something else while watching TV, for example.
You did plan to add a TV or a screen, right? To entertain yourself or take courses online or on YouTube?
See also:
A Multifunctional Garage... Absolutely!
5 Simple Tips to Soundproof Your Home