June 21, 2022
How to style a coffee table like a pro
You use it to prop up your feet after a long day or as a place to store your remote controls, but a coffee table is also an opportunity to combine utility and style to make your home both comfortable and beautiful.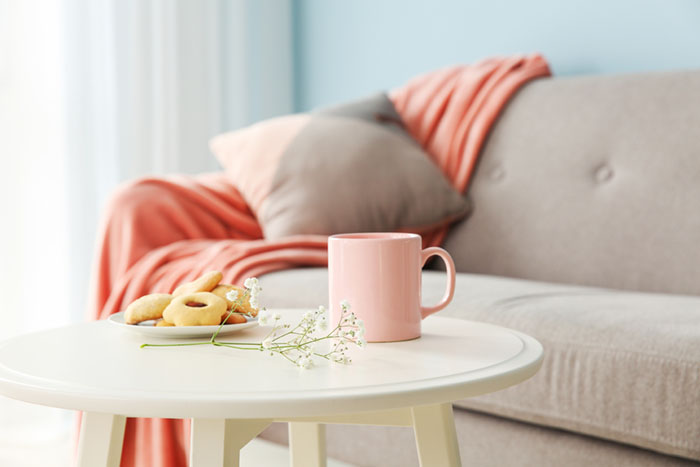 If you've been looking for coffee table decor ideas, we have you covered. Check out this guide on how to style your coffee table like a pro!
First Steps
The first step in styling is to start collecting small decor items that could work to decorate the coffee table. This might be around the house, at a home decor store or a flea market.
Using colour
Keep the colour of the room and other decor in mind and choose items within the same colour palette. This process, known as "colour repetition" in the interior design industry, will produce a result that is pleasing to the eye.
If you're feeling adventurous, you can also decorate your coffee table with an accent colour that will add drama and draw the eye towards the centre of the room.
Different coffee table shapes
The next step in styling a coffee table is to determine the shape of the table itself.

Make sure the shape you choose complements the lines of the room and fits the scale of the other furniture in the space.
The shape of a coffee table is important because it dictates how to arrange the items on top. Here are some tips for specific coffee table shapes: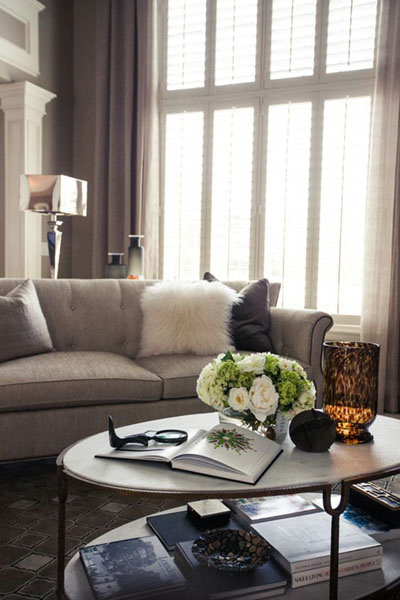 Round or oval coffee table ideas
The soft edges of a round or oval coffee table introduce softness in areas with a lot of harsh lines. Round coffee tables look especially nice on the inside of sectionals or beside an accent chair. An easy-to-remember rule for styling round coffee table decor is to follow the "rule of threes" – display three complementary elements in the centre of the circle.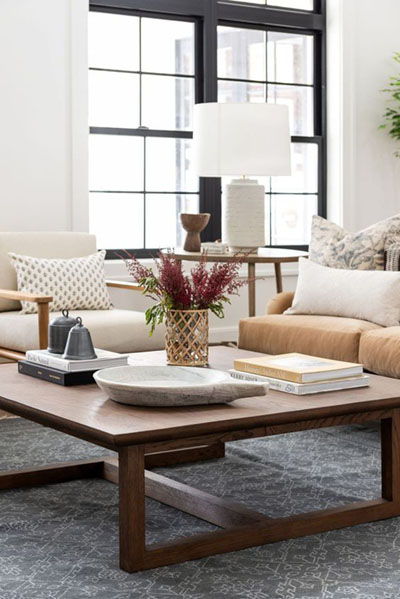 Square or rectangle coffee table ideas
For a square or rectangle coffee table, tape off sections to form a grid and position objects within the squares. This process makes styling less intimidating and can help you focus on making each compartment stand out as a part of the whole. Frame a square or rectangle coffee table with a circular area rug for contrast.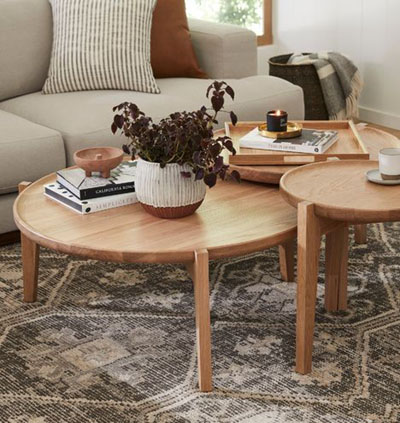 Nesting coffee table ideas
Nesting tables are designed in groups of two or three tables that fit together because they are at graduated heights. These multi-level tables are handy because they can be used separately throughout a room (such as on either side of a sofa) or combined for a layered furniture arrangement.
Coffee table storage ideas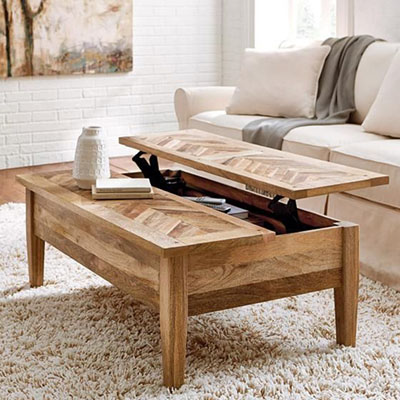 A coffee table with drawers or a lid can be a great place to store photo albums, blankets, sentimental items or toys. However, even without built-in storage, you can use these items to organize what is on top of your coffee table for a storage solution tailored to fit your needs:
Coffee table trays make it easy to group things together or clear small knick knacks off the table quickly when you want to use it for games or food
Use a decorative bowl or plate to group and arrange objects together like fruit or dried grass balls

Small boxes of varying sizes can be used to store knick knacks, trinkets, stationary, and many other items
Incorporate balance
It is critical to incorporate varied heights, shapes and textures in the items you select to decorate your coffee table. Vary the scale of display items and group like objects together using the "rule of threes".

For example, a tall object like a vase filled with three, six or twelve eucalyptus branches is a great way to anchor a larger coffee table.

To balance your items, start with the tallest object and then compare it to the shortest. Use the space between as a guide to select your mid-size objects like candles, plates, bowls, small boxes, structural objects or decorative books.
For optimum balance and visual interest, make sure to vary the texture of surfaces (bumpy, smooth, rough, pointy) and material (metallic, glass, stone, wood, bone).
Add a personal touch
Like a bar caddy or a tea and coffee nook, a coffee table is a great opportunity to create a personalized area that expresses your personality or character.

It is a great idea to include pictures, memorabilia or other sentimental items that are special to you or have a story behind them.
Even individual items, such as a pair of binoculars or a harmonica, can be whimsical additions that add interest to your display.
Adding light and greenery
To create a more dynamic living environment, use light and greenery to decorate your coffee table.
Vases with flowers or branches, potted plants, succulents and other cacti all contribute colour, texture and vibrancy to the room.

Small lamps, lanterns, and candles add structure during the day and beautiful ambiance at night.
Make Seasonal Swap-Outs
As a focal point of your living room, a coffee table is an ideal place to rotate seasonal decorative elements.
In spring, switch out dried flowers for a vase of fresh tulips or daffodils.
In summer, display a sea conch on a stack of books or use a decorative bowl, tray or jar to feature a much-loved collection of sea shells.
At the arrival of fall, switch out items from a warmer season for gourds and dried berries.
During winter, add fresh candles and clusters of pine or cedar branches.