February 17, 2022
Inspiring kitchen island arrangements
Are you looking for kitchen island ideas for your next home improvement project? It may seem pretty straightforward—all you have to do is buy an Ikea kitchen island and set it up in the centre of your kitchen, right?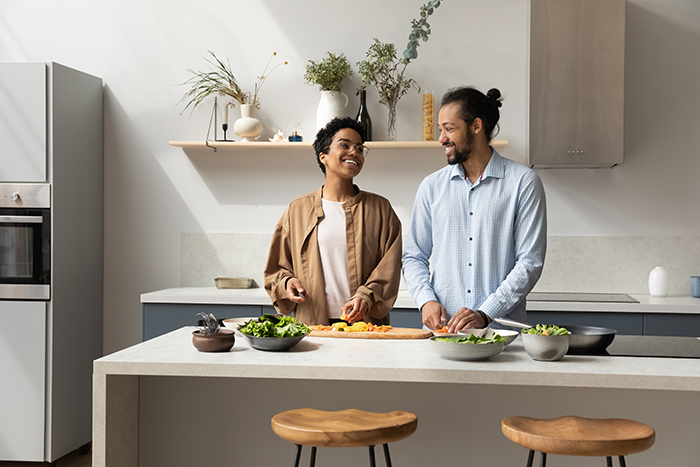 If your space is large enough to accommodate a piece of furniture in the centre of the room, setting up a functional kitchen island requires some planning. Here's how.
Define your needs
Do you lack an adequate work surface for cooking? Do you need more storage? Would you like a kitchen island with seating so you can have breakfast on the go?
A kitchen island changes the way you use your space. It lets you face your kitchen helpers or anyone else keeping you company while you cook.
If your space allows it, you can opt for a kitchen island with a built-in range, sink or dishwasher.
Choosing the right kitchen island design is also a matter of aesthetics: not only is a kitchen island useful, it also changes the look of a kitchen.
Measure your space
Experts recommend leaving three feet between the counter and the kitchen island so you can freely move around while using both surfaces.
If you'd like to have a kitchen island with stools for quick meals or breakfast, be sure to leave enough space all around so that people can sit comfortably while others circulate behind them.
A handy trick is to apply duct tape to the floor to ensure the kitchen island design you have in mind gives you all the space you need.
Decide how you will use your kitchen island
Before you start shopping for or designing your kitchen island, first things first:
Do you want it to have a built-in range? If so, you will need to plan for a range hood—one that is either built into the island itself or suspended overhead. This will require the expertise of an electrician.

Do you want it to have a built-in sink? What type of work will be needed to install plumbing in the centre of the kitchen? If this option is too complicated, one solution is to extend your kitchen counter out from the wall to give the same effect as an island while hiding any additional pipes needed to integrate the sink.

Is storage a priority or would you rather have more space for seating?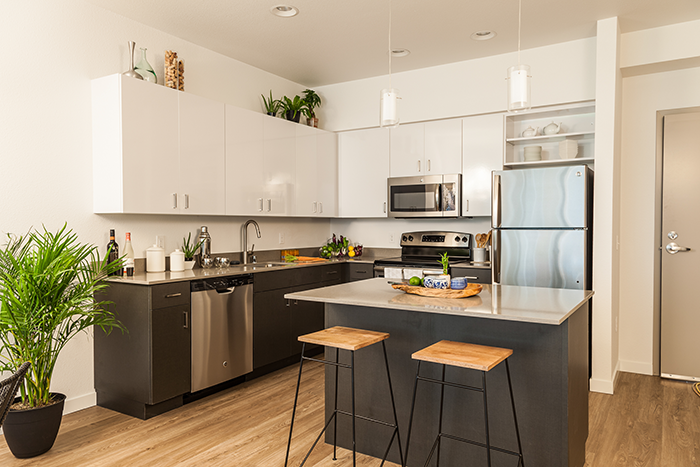 Determine your design preferences
The choice of materials and designs available to you is as broad as your imagination. Remember to consider the look you want and its impact on your kitchen island's overall functionality:
Shelves are handy and can be a stylish way to showcase your copper cookware. If your pots and pans are old—and not in a good way—you may be better off choosing drawers or closed cabinets so you can store everything neatly out of sight.

Stone countertops are extremely popular, but do they suit the style of your kitchen, cabinets and

kitchen backsplash

?

Do you want a small kitchen island that complements your decor or do you prefer something more imposing that will be the centrepiece of your kitchen?
Don't forget about lighting!
Given that adding a kitchen island changes the way you use your space, you will also need to rethink your lighting.
The best option is generally to plan for kitchen island lighting that will give the room an inviting look while ensuring the light is bright and direct enough for cooking. Remember: you may also want to use your kitchen island to work or do a jigsaw puzzle!
In addition to kitchen island pendant lighting, why not install discreet LED lighting on the ceiling to brighten your work surface?
Choosing your kitchen island
Most home improvement and furniture stores offer a wide range of kitchen islands.
Take the time to shop around to get a better idea of what you want. Shopping around is also a great way to discover uses you may not have considered.
If you're looking for something more unique, remember to make the rounds of the stores before getting in touch with a designer so you have a clear idea of what to ask for.
The ultimate pro tip that's easy to forget
If the kitchen island you've settled on has a built-in microwave or range, remember that you will need to hire an electrician to complete the installation.
In fact, consider hiring one even if your island doesn't have these appliances: built-in outlets are a godsend in any kitchen island. Not only will they come in handy for your small appliances, you'll also be happy to have them to charge your laptop, iPad or computer!