August 15, 2018
Kitchen Counters 101
In addition to its esthetic value, kitchen countertops should be practical and chosen based on your personal cooking habits. It must withstand heat, impacts, stains and scratches. Here are some tips for choosing the right countertop for your kitchen.
Marble
Marble is a unique and timeless material, known for its natural elegance.
Advantages: Marble is a natural and beautiful material that comes in a range of unique colours and a multitude of finishes, which give it its brightness. It is extremely resistant to heat and is quite easy to maintain.
Disadvantages: Because of its soft, porous surface, marble must be sealed regularly. You also have to be careful with heavy pots and pans as they can damage the surface. Acidic products such as wine, lemon juice or vinegar can also leave a mark. Finally, its price remains a major drawback, as it is one of the most expensive options.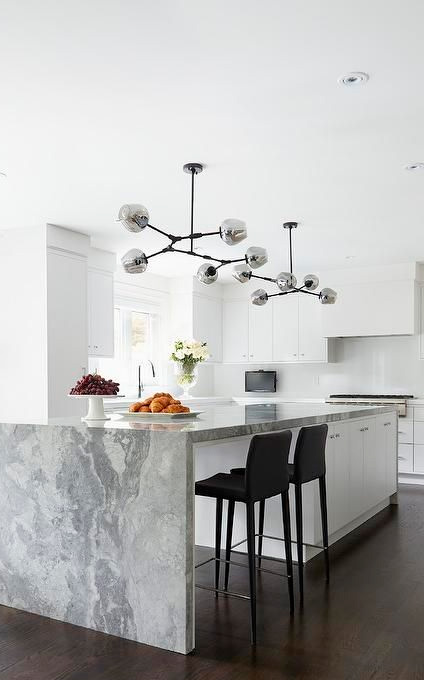 Source: https://www.pinterest.fr/rabel64/
Concrete
Concrete is a trendy countertop material that comes in a variety of shades and textures, which allows it to fit in well with all types of kitchens.
Advantages: Concrete is very durable and heat resistant. Because it doesn't have joints, it is hygienic and easy to maintain. It pairs well with wood, metal or glass.
Disadvantages: Concrete is porous and therefore susceptible to scratches and stains from oily or acidic spills. These countertops are difficult to install and require an experienced professional. They can also crack and must be resealed regularly.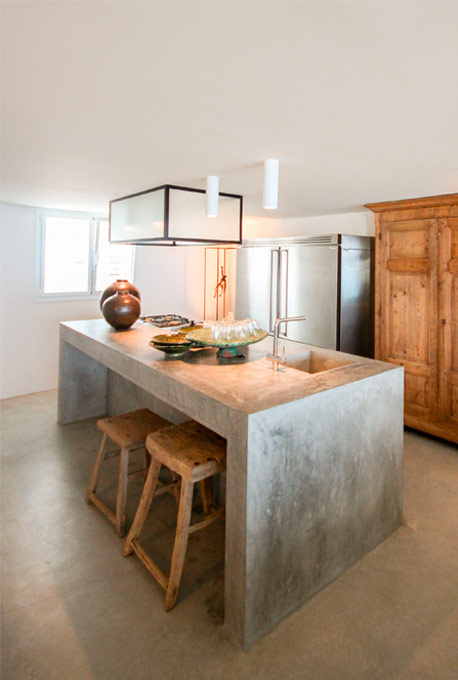 Source: https://www.pinterest.fr/jolijn78/
Solid wood
Noble and timeless, wood countertops have a definite place in our kitchens.
Advantages: There's a wide variety of wood countertops to choose from, such as oak, cherry or birch, which makes them fit in with all design styles. They also come in a variety of thicknesses, creating a beautiful esthetic. Soft to the touch, wood gives a warm look to any kitchen.
Disadvantages: As a porous material, wood absorbs everything and is not particularly sanitary. It is sensitive to heat and can be damaged or scratched more easily than some of the other options. Finally, it requires a lot of care and is quite expensive.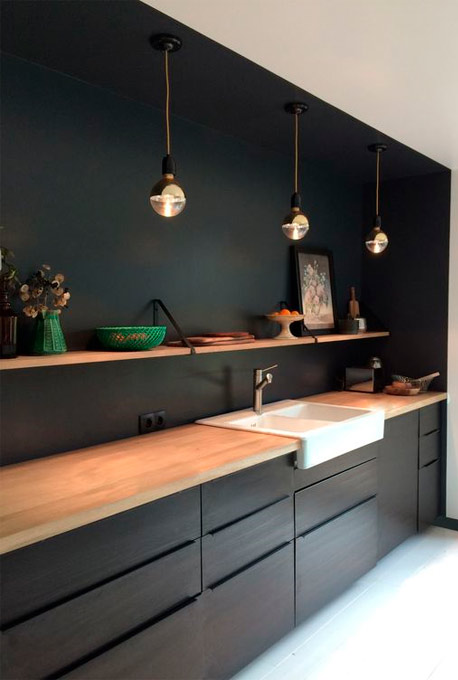 Source: https://www.pinterest.fr/aliksahh/
Laminate
Laminate is composed of several superimposed layers – usually of paper and plastic – that are glued together to form a resistant and durable material.
Advantages: Laminate is perhaps the most popular option, given its affordable price. It comes in an infinite variety of colours and textures, and is therefore used in all types of kitchens. It's easy to maintain, and is resistant to shocks and stains.
Disadvantages: It is not very resistant to heat and its surface can be difficult to repair if it becomes damaged.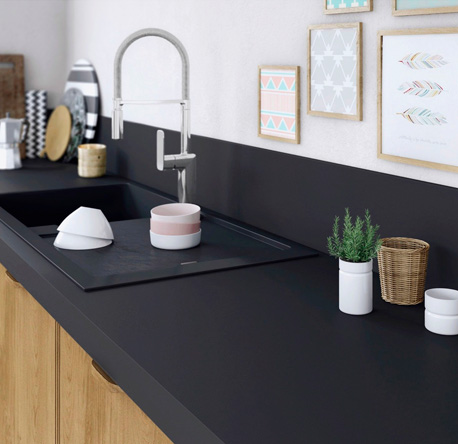 Source: https://www.pinterest.fr/blacks509/
Granite
Granite is a high-end material that can be used in all styles of kitchens. It is elegant, timeless and comes in a wide range of colours.
Advantages: Granite is a popular option since it is hypoallergenic and easy to maintain. It is also resistant to heat, oil stains and scratches. It's a very hard and durable material.
Disadvantages: Its high price tag is the main obstacle to buying granite countertops. It must also be professionally installed.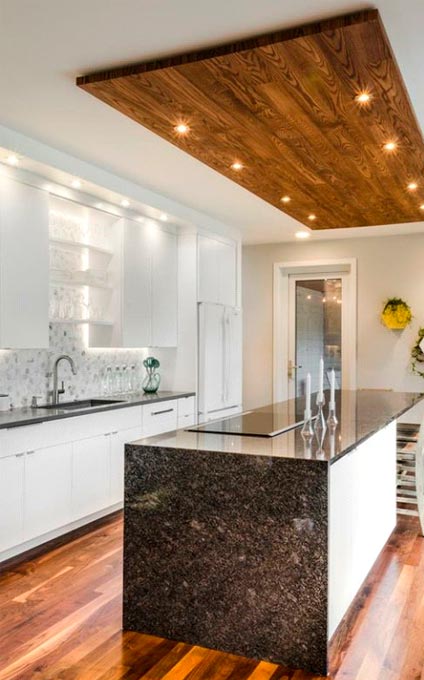 Source: https://www.pinterest.fr/lmautuitdamalix/
Stainless Steel
Used in professional kitchens for its functional and hygienic qualities, stainless steel is now also being used in residential kitchens as well. It offers an industrial or contemporary style.
Advantages: Stainless steel is solid, durable, and extremely resistant to heat and stains. It's a non-porous material that is easy to maintain. Furthermore, its quality does not deteriorate over time.
Disadvantages: The main drawbacks of stainless steel are that it scratches quite easily, and it shows fingerprints.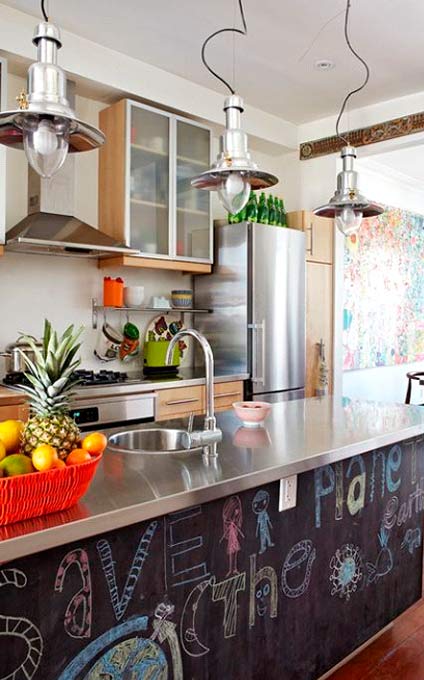 Source: https://www.pinterest.fr/homelisty/Ma
Assess your budget, your use of the countertop and the look you want to achieve in your kitchen, and then make your choice!
See also:
Want a Stylish Kitchen? Go Grey!
8 Decorating Ideas to Spruce Up Your Kitchen