April 17, 2017
Loft Style: A Revolution in Decoration!
The loft style has now become very popular for home interiors. Inspired by the New York apartment trend, it is the modern expression of a prosperous and creative time. The "loft movement" has become a décor must … it frees and defines the space and creates a feeling of openness.
Use materials, colours and industrial furniture to create a loft look. Here are some tips to give your home an urban loft feel.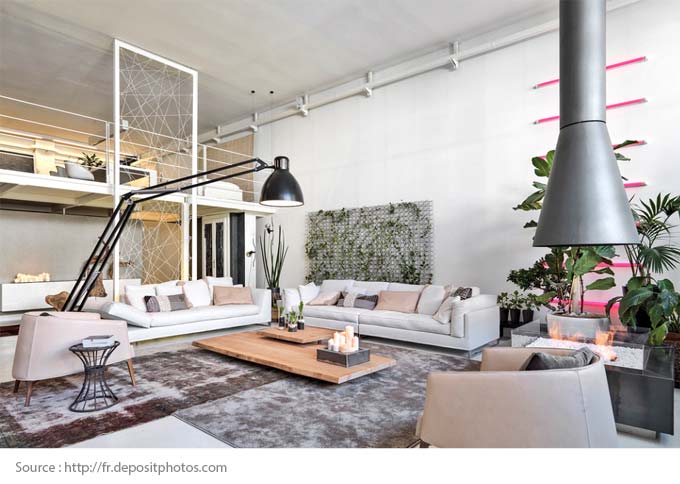 What is the loft style?
The loft style refers to a former workshop or factory that has been converted into apartments. It includes original features and open spaces along with a New York-inspired décor. To build on its unique atmosphere, creativity is a must. Use an urban style as a base and adapt it to your taste. An industrial feel is perfect for the living room, kitchen or bedroom.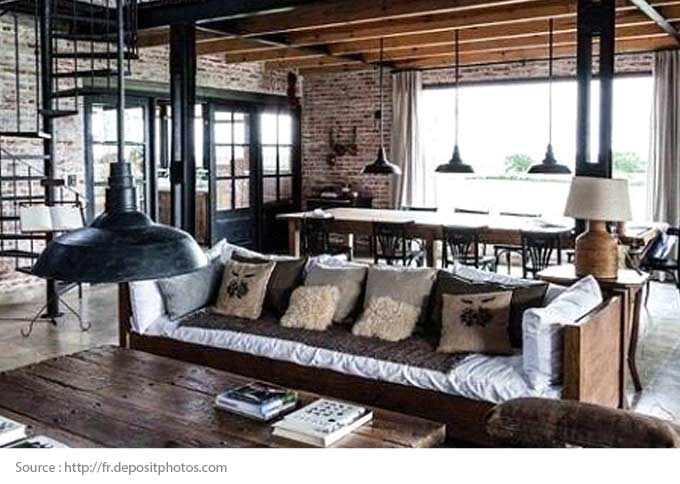 Loft style: free up the space
The loft spirit is, by definition, a completely open space. To recreate this feel at home, start by creating space… open up rooms, remove walls and highlight structural elements. The idea is to reclaim the initial space. However, be careful not to touch the load-bearing walls! The loft style is also characterized by rooms bathed in light. This can be done by freeing up windows to maximize the natural light and choosing multiple light sources.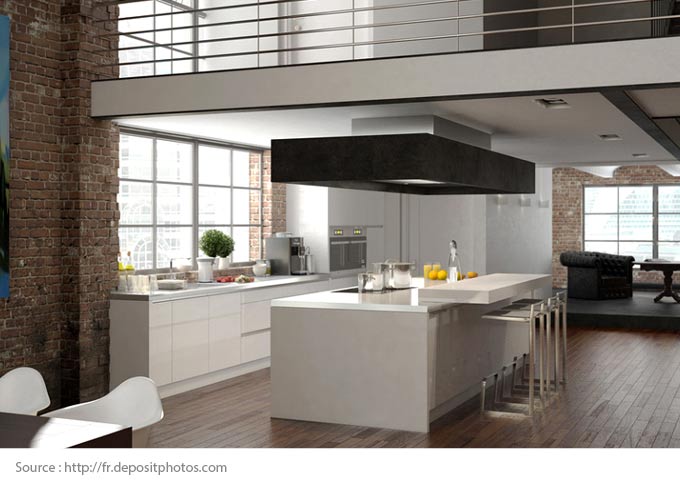 Create an illusion
The loft style has some distinct traits, including the illusion of being in a converted workshop or factory. To create this effect, use brick or concrete walls that are reminiscent of the industrial era. Preferably, choose one type of flooring, such as parquet or waxed concrete that can tie the space together as a unified whole. For walls or floors, why not use different wall coverings to create the illusion or even PVC flooring. Many trompe l'oeil murals and wallpapers that give the illusion of a factory interior are now available on the market.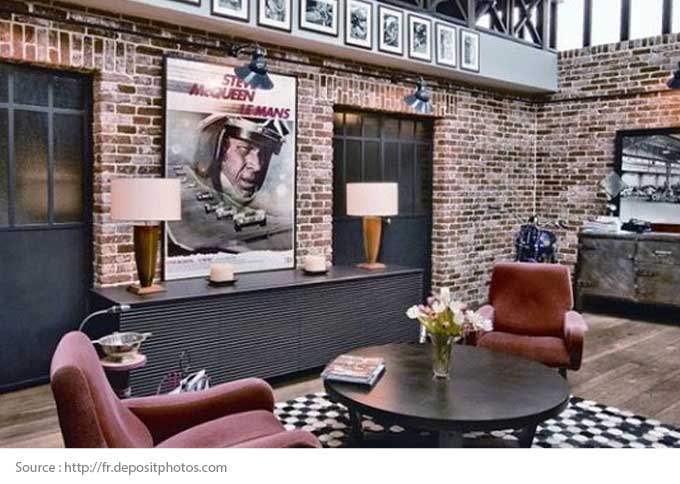 Create zones
An open space is the trend today for every room in the house. However, it is sometimes useful to create zones for a more intimate setting. Leave the space open, but separate it by creating various universes. To do that, you can use a piece of furniture, a plant or even a sofa. Use low-profile elements as a separation to preserve the room's feeling of spaciousness. Stained-glass windows are excellent as room dividers, since they let the light through.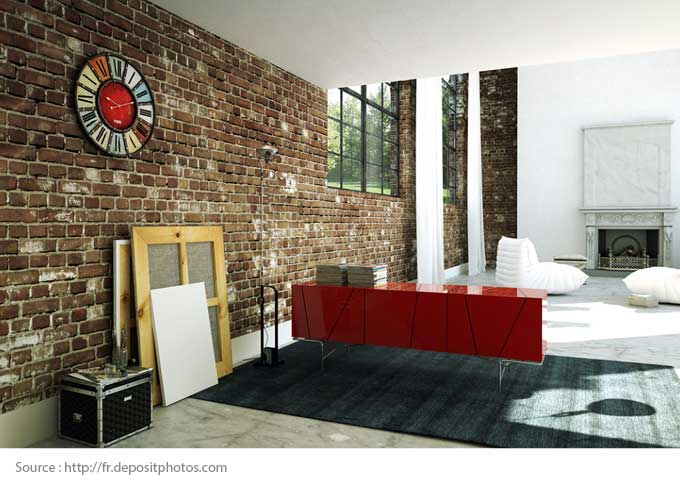 Industrial decorating
The loft style implies an urban industrial character. Choose refurbished or repurposed furniture and raw materials for your décor. Choose trendy colours like black, grey, chestnut or taupe and associate them with paler tones. Take advantage of new industrial furniture as well as old factory items found at flea markets. Highlight the room's luminosity and avoid large curtains. Sheer curtains or blinds would be a better choice. Create an atmosphere that is both raw and cozy.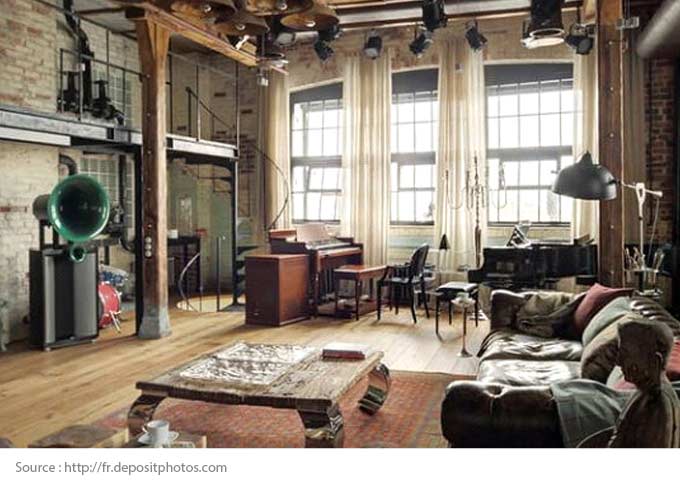 Use second-hand objects
Certain objects particularly symbolize the loft style. Why not go for that oversized weathered metal clock that evokes the industrial era. Choose a good-size suspended light, giant letters or old signs. For sitting arrangements, think of metal chairs for the kitchen and leather club chairs for the living room. Add caster wheels to your furniture (furniture with drawers, tables, etc.) Look for vintage maps or posters, or if you have the space, even an old metal staircase. Finally, don't forget a wood ladder, the architect lamp or old photographs.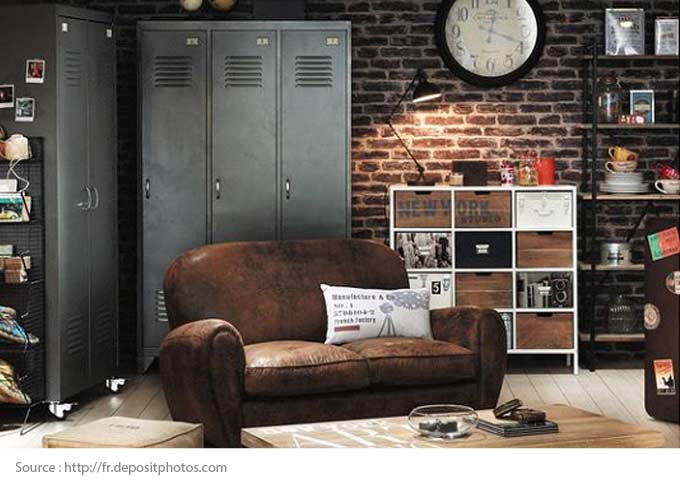 In one or every room, choose the loft style for that industrial feeling.
See also:
Understanding the Industrial Style