January 4, 2022
Quebec artworks to upgrade your decor
Here in Quebec, we are lucky to have the works of a wide range of talented artists within reach, including painters, sculptors, pottery and ceramic artists. Discover all the ways Quebec artworks can enhance your interior design.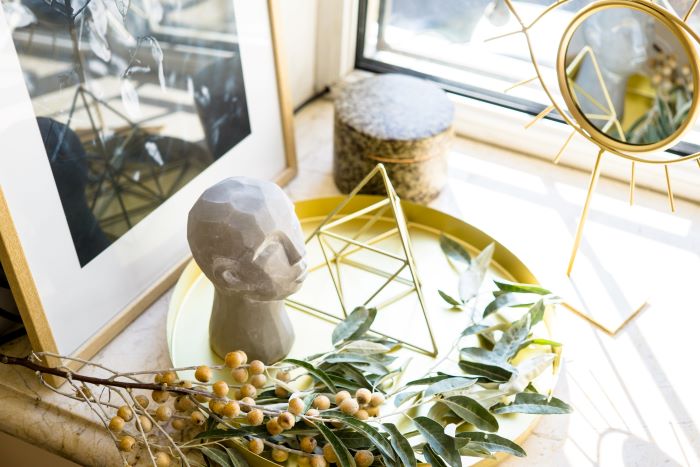 Pottery and ceramics… in every room
Quebec pottery and ceramics fit perfectly in any part of the house. Not only do they embellish your interior, buying them also encourages local artists. Designers suggest combining a variety of textures for a more striking look. For example, if your living room furniture is upholstered in solid, soft-toned fabrics, the textures of decorative ceramics will blend in perfectly.
Wall art to suit every taste and budget
Most major cities in Quebec are teeming with art galleries. Many gallery owners, particularly in the Capitale-Nationale and Charlevoix regions, specialize in works by Quebec artists and painters. You'll find wall art in every size and style, making it easy to choose works that suit your taste and budget. In addition to paintings, you can choose from a wide variety of lithographs, screen prints and photographs printed on canvas, wood or metal to adorn your walls. Over the past few years, a new type of business has emerged offering works of art for rent to offices and homes at an affordable price. It's a great way to admire the artworks of your favourite Quebec painters every day without breaking the bank!
Accessories that stand out
Why settle for the carpets, lamps and other accessories you see all over the major stores when you can opt for an original decor instead? Quebec artists make a wide range of decorative objects and accessories that are even more creative—many of which are one of a kind. Venture out and visit exhibitions, craft shows and stores specializing in the work of Quebec artisans to uncover little treasures to add sophistication to your home.
Custom Quebec artworks
Do you dream of having a textile wall hanging created by a Quebec artist to give your living room a unique and welcoming look? What about an original sculpture to be the centrepiece in your living room? To commission an artist to create a custom work of art, simply visit the Conseil des Métiers d'art du Québec (CMQ) website and consult their directory. There, you will also find the contact information of Quebec artists specializing in pottery, woodwork, engraving, as well as any other art medium or craft you can imagine. So you see, art in Quebec is still very much alive and easy to find across the province. Investing in local culture benefits artists and the entire Quebec economy. And by treating yourself at the same time, it's a win-win!
---
Are you passionate about real estate? Subscribe to the Centris.ca newsletter now.
See also:
Interior design: Rethinking space - Centris.ca
Rustic Decor: A Return to the Basics - Centris.ca
Creating a Gallery Wall - Centris.ca