December 17, 2015
Re-energize by Decluttering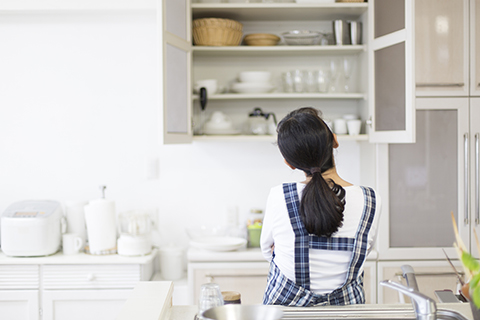 Moving into a new home is the perfect opportunity to declutter and simplify your living environment – which can be very therapeutic. However, just the thought of decluttering a home can make us feel overwhelmed and discouraged, as we often don't know where to begin. We put it off, put it off again and, at the last minute, we cram all our belongings into boxes and tell ourselves that we'll sort through everything once we start to unpack. But don't fool yourself… more often than not, four months after moving into your new home, the door to the guest room is still closed in order to hide the stacks of boxes that have been sitting there since the day you moved in!
But as you know, avoiding the problem does not resolve it. The solution is to divide these tasks into smaller, methodical steps before you move! Here are a few tips that you can follow to help you get a fresh start in your new home.
Day 1 - the kitchen: take the measurements of all the cupboards and shelf space in your new kitchen before you move in. If you know, for example, that you will have eight shelves for your plates, glasses and mugs, immediately pack all of the items that can be contained in this space and donate whatever's left.
Once you're done, be sure to reward yourself. After all, you deserve it! Sit back with a cup of tea, take a deep breath, and visualize what your new kitchen will look like.
Now reserve one evening next week to declutter your library. You'll see that by breaking this big job down into smaller tasks, everything will work out fine!