April 21, 2022
Spring cleaning: checklist for the whole house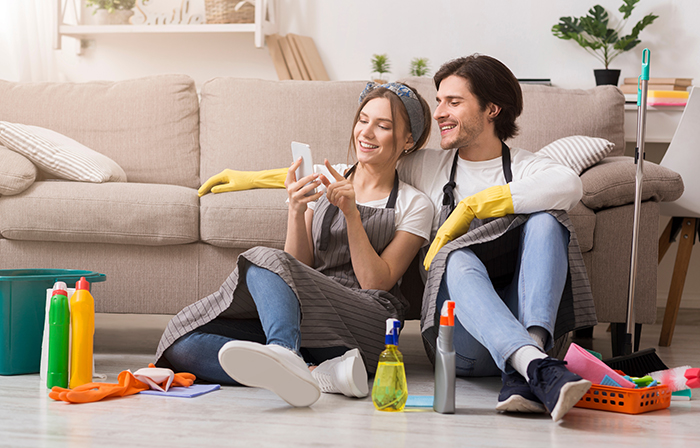 After getting started, use our spring cleaning checklist to tackle all the common areas around your house. Then sit back and enjoy your clean space!
Entryway and hallway spring cleaning checklist
Clean doors

Sweep floors

Mop floors

Clean doormats

Organize closets, hooks and shoe racks
Living and dining room spring cleaning checklist
Dust and polish furniture

Wash linens such as tablecloths, chair cushions, slipcovers, blankets, sofa covers and pillows

Dust blinds and curtain rods

Clean light fixtures and ceiling fans

Dust and clean lamp shades

Dust electronics such as televisions or radios

Sanitize light switches and remote controls

Sweep floors

Mop floors

Vacuum and shampoo rugs or carpets
Kitchen spring cleaning checklist
Clean stovetop

Clean small appliances such as microwave, blender, or toaster

Clean oven

Clean dishwasher

Clean refrigerator and discard old food

Defrost freezer and discard old food

Remove items from cabinets and thoroughly clean inside

Clean kitchen sink drain

Sweep floors

Mop floors

Wash any mats or rugs

Purge broken dishes

Wash reusable water bottles and water-filtering pitchers

Replace water filters
Bathroom spring cleaning checklist
Organize emergency supplies and make sure First Aid supplies are fully stocked

Discard expired medications (research on how to do so properly), personal care products, and makeup

Clean makeup brushes

Clean vanity

Wipe mirror

Clean tub and shower

Clean showerhead

Replace shower curtain liner

Scrub tile grout

Clean toilet

Clean hardware

Sweep floors

Mop floors

Declutter linen closet by donating towels and sheets you no longer use

Replace toothbrushes and razors

Wash towels, bathrobes and bath mats

Clean drains
Bedroom spring cleaning checklist
Mend damaged clothing

Donate unused clothing

Organize closets

Wash bedding including sheets, pillows, duvets and bed skirts

Vacuum carpets

Flip mattress

Sweep and mop floors

Shampoo rugs or carpets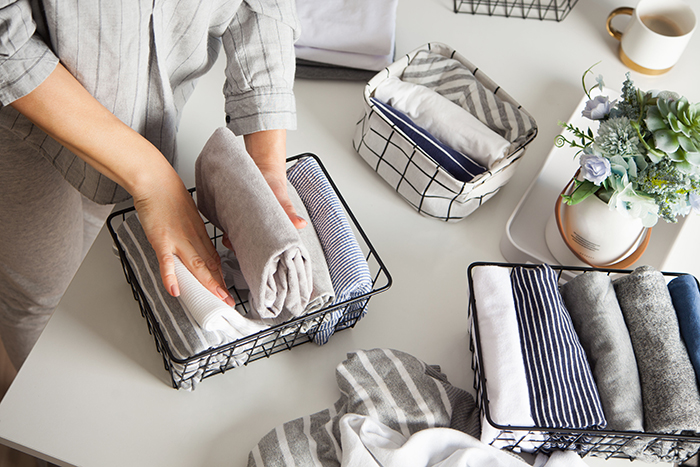 Laundry room spring cleaning checklist
Clean washing machine

Clean dryer vent

Clean lint trap

Organize laundry supplies

Sweep and mop floors
Office spring cleaning checklist
Shred and recycle unneeded paperwork

Dust and polish furniture

Dust bookshelves

Dust electronics

Sanitize keyboard and mouse
General house spring cleaning checklist
Test and replace smoke alarm batteries

Replace air filters as needed

Clean air vents/registers

Clean light fixtures

Replace light bulbs as needed

Sanitize door handles

Sanitize light switches

Organize junk drawer(s)

Tend to plants

Clean or dispose of old pet toys

Organize craft or hobby supplies
Backyard spring clean up checklist
Wash patio furniture

Wash outdoor toys or equipment

Organize gardening tools

Inspect deck for damage or mildew
Lawn spring clean up checklist
Remove refuse such as leaves and twigs

Treat for grubs

Reseed grass in areas that have become thin

Prune hedges and shrubs
Garage spring cleaning checklist
Declutter tools, sporting equipment and toys

Open up garage door to air out the space

Wipe down walls

Sweep floor

Clean garage door

Clean garage door frame

Replace batteries in garage door openers

Clean windows
---
Are you passionate about real estate? Subscribe to the Centris.ca newsletter now.
Spring Cleaning: A Key Part of Preparing to Sell Your Home
Spring cleaning: the perfect opportunity for a garage sale
9 home renovations to do this spring 2022