March 2, 2021
Thinking of Installing a New Kitchen Counter?
Kitchen counters and islands figure prominently in our daily lives. We prepare food there, we eat there, we chat, we sit there to read and listen to the morning news... Needless to say, we meet there regularly throughout the day.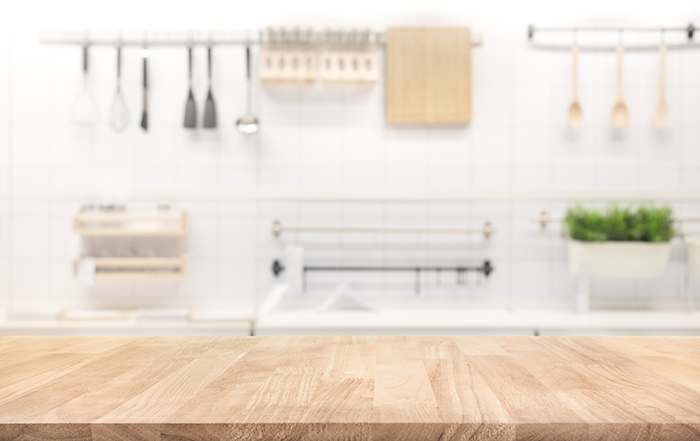 Are you thinking of replacing your kitchen countertops? There's a lot to consider, both from an aesthetic and practical point of view, as counters take up a considerable amount of space.
Whether you undertake the work yourself or hire a professional, it's best to learn about the various materials and their characteristics, shapes, colours and possible finishes.

Coatings

Hard surfaces. Quartz, granite and marble are ultra-robust surfaces that also have style! They are scratch and stain proof, as well as heat resistant. There's no fear of damaging them while cooking or cleaning. These coatings often come with good warranties. Among these classic materials that stand the test of time, marble tops the list.

Laminate. More economical, it is nevertheless very solid and very resistant to stains, shocks and heat. Its versatility in colours and patterns will suit all types of kitchen decor.

Wood. This timeless classic provides a natural look and always brings a touch of charm to any type of decor, even the most modern.

Metal. In addition to being scratch-resistant, stainless steel, zinc or even copper surfaces perform the "kitchen counter" function very well. These materials are easy to clean and very hygienic, not to mention their modern appeal. However, the installation of these countertops requires the expertise of a professional.

Glass. Besides its elegance, glass is heat resistant and easy to clean. Usually made of recycled product, this material is an interesting ecological choice that blends in perfectly with a very modern decor.

An island is useful for fulfilling many functions

A kitchen island is the perfect spot to prepare food, have a drink – either alone or with friends – while your meal is cooking, or grab a quick bite before leaving for work or school.

It's also the ideal place for homework time, as it allows parents to supervise their kids while preparing dinner. It can also serve as a storage area for small appliances and other frequently used items. If you have the space, a kitchen island stands out as an elegant, efficient and stylish addition.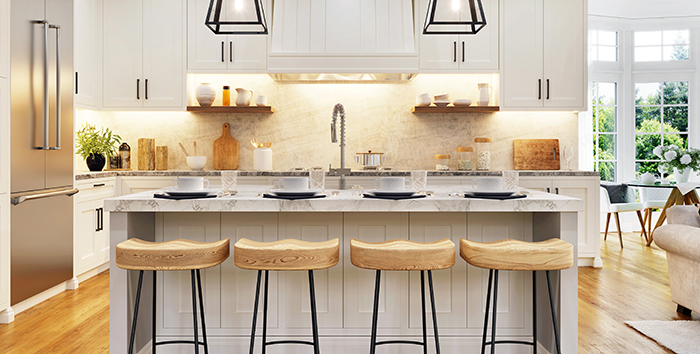 The perfect island
The size and shape of your kitchen island must match the size of the room so that it allows for a smooth flow of traffic and incorporates the various components that make it multifunctional. Depending on its primary use, an island can accommodate a sink, a dishwasher, a cooktop, a built-in oven, sliding drawers, a pantry and electrical outlets. The trick? Define its function from the start! This way, you will choose the right surface materials, the ideal size and the style of finish that will match your home's design (classic, contemporary, modern or rustic).
See also:
8 ways to modernize your kitchen cabinets
5 Ways to Make the Most of a Small Kitchen