December 14, 2015
Tiny Houses: A Trend That has Come to Québec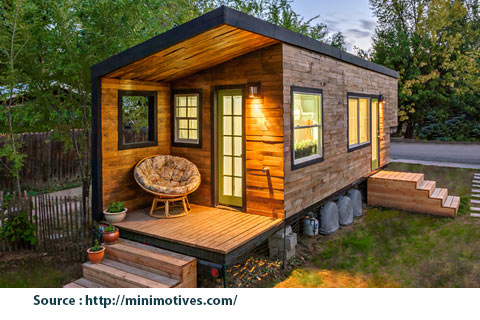 When asked the question What kind of house would you like to live in?, most people would say something like: "A nice home that has a lot of natural light and a lot of space". However, some people would define their ideal home as: "A house that is compact and that uses less energy".
The tiny house movement, which originated in the United States in the early 2000s, has now arrived in Québec, as many buyers are being seduced by these tiny houses. There's even an annual tiny house festival in Lantier, a municipality in the Laurentides that was the first in Québec to authorize a residential development project dedicated to tiny homes.
What does a tiny house look like? These properties offer a living area that typically ranges between 100 and 400 square feet. They can be built in recycled containers, on a trailer, pre-fabricated or built from recycled materials.
Despite their small size, most tiny houses have a functional interior with a kitchen, a bathroom, a living room, an eating area and a bedroom on a mezzanine. Obviously, the space must be laid out carefully and with a touch of ingenuity!
Interest in tiny houses is based, first and foremost, on economic considerations. These small homes obviously cost less money to build, but they also provide significant savings in terms of heating, maintenance, furniture, etc. People also appreciate the fact that they're more environmentally friendly.
The only downside is that the number of municipalities that allow the construction of tiny houses is still limited in Québec. It's therefore important that you check your area's municipal bylaws before embarking on this type of project.
One thing's for sure: owners of tiny houses choose to simplify their lifestyle and say goodbye to most of their material possessions. They can then use their savings to work fewer hours or pursue their hobbies and passions, such as travelling.
Will you fall under the spell of a tiny house?