November 11, 2021
Tips for decorating a child's room
Decorating or redecorating a child's room is always a source of creative fun. Here are some suggestions for creating a practical, fun and appealing room that will capture their imagination.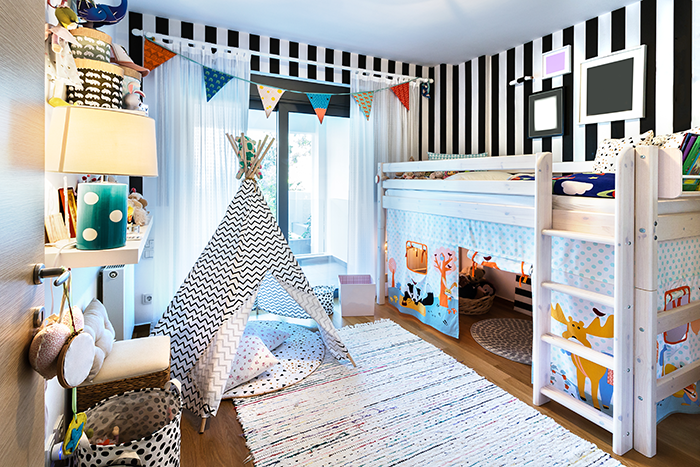 Start with their interests
Bedroom decor preferences can vary wildly from one child to the next. Age also needs to be taken into consideration because over time, their tastes tend to change a lot. Before embarking on your decor project, it's a good idea to talk to your child. Ask them about colours, furniture styles and accessories. If your child is too young to give an opinion, use the colours and shapes that pique their interest.
Choice of furniture
Before investing in furniture to redecorate your child's bedroom, try collaborating with them by browsing online stores to find what they like best. For their bed: would they prefer a cabin, canopy, captain or themed bed (car, nature, etc.)? As for bedding, a more subtle tone will tie the room together, particularly if there are already lots of bright colours. However, if you're decorating with softer tones, bedding with a themed pattern or a solid, but bright colour may work better.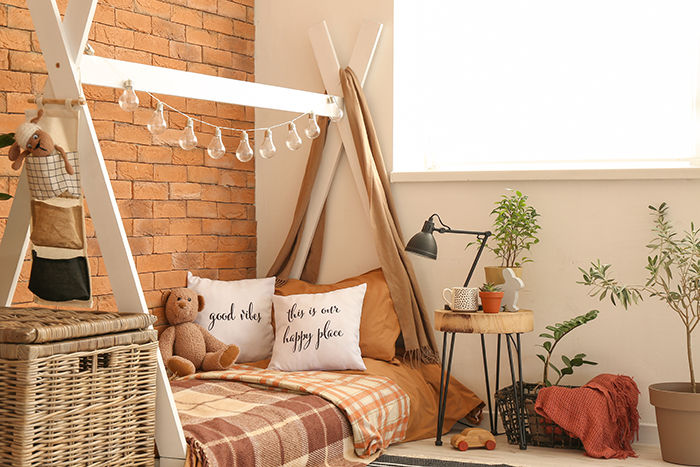 Wall coverings
A green or black chalkboard wall could be the perfect outlet for your little artist to express themselves; there are even washable wallpapers they can colour. While paint (ideally complementary or monochrome) can liven up a child's bedroom walls, there is a wide range of wallpaper available that can also give personality to the room. There is no need to cover every wall—just one or two can do the trick, especially if the patterns are busy. There are so many wall covering options available on the market: textiles, wood, cork and more!
Accessories for fun and comfort
A child who enjoys a quiet and cozy room may love flopping down into a large floor cushion, or lounging on a hanging wicker chair or a comfortable hammock. Accessories should suit their favourite themes (space, fairies, the jungle, cartoon characters, etc.) and their favourite colours. To store toys and games, consider an interesting trunk or brightly coloured boxes that you can stack or switch around in any way you please. Choosing the right lighting is just as important. String lights for example, can bring a touch of magic.
What about a workspace?
Would your child enjoy a desk area for their homework or crafts? Or special spot for their tablet or computer? If the room isn't particularly spacious, you could place a triangular table in a corner with one or two shelves nearby. Larger rooms allow for a wider selection of styles and sizes for work area furniture available on the market.
---
Are you passionate about real estate? Subscribe to the Centris.ca newsletter now.
See also:
Shedding some light on accent lamps
Choosing an accent chair to suit your home
Inspirational Ideas for a Home Office