January 23, 2017
Tips for Hanging Artwork
The art that you hang on your walls sets the tone for your home. Here are some tips and tricks for getting great results.
In harmony with its surroundings
First, it's important to consider the size, the shape and the actual pieces of art themselves to ensure that they're in harmony with their surroundings. It's a question of creating balance.
What height?
The height of your artwork must be consistent. An imaginary line should dissect the pieces more or less in half, unless you're aiming for a particular effect. The golden rule regarding height is simple: you must be able to admire the work almost entirely without having to raise or lower your eyes at a distance of a little less than a metre.
How to organize your pieces
The artwork you want to highlight should take up an entire wall, especially if it's of a significant size. Smaller works should be grouped and arranged in a logical format. The ideal way to do this is to create an axis so that the result is structured, and avoids the impression of disorganization.
Space between each piece
When grouping several works together, avoid crowding them and arrange them so that there's a reasonable amount of space between each piece. The smaller the works, the smaller the space between them.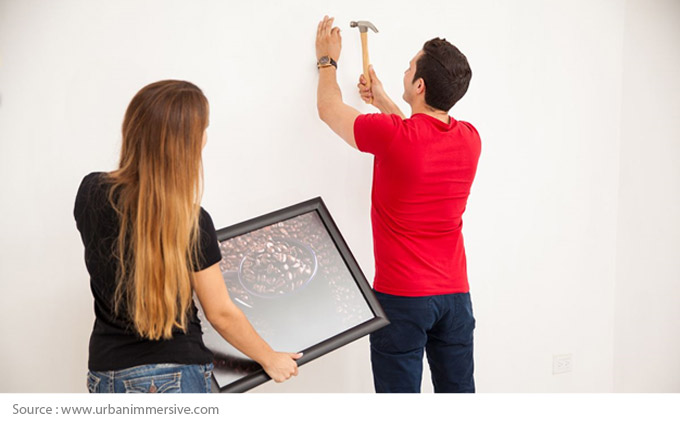 Don't overdo it
Avoid saturating a room by putting up too many works of art on the wall (or worse, on all walls!). A person's eyes are automatically drawn to what's on the wall. However, if it's saturated with art, it becomes unpleasant to look at.
A little trick
Before you even take out your hammer and nails, get some paper and tape. Cut out all the shapes of your frames and artwork, according to their different sizes. Then, stick them to the wall in order to get an idea of what the room will look like once your items are hung on the wall. Then, in a sitting position, look at the result. Move them around until you are satisfied with the result. You will save a lot of time and, more importantly, you will make fewer unnecessary holes in your walls.
In conclusion
Like with your taste in art, the way that you hang your frames, your artwork and your photos is a personal choice. While there are certain guidelines that should be followed, you ultimately have the final say!
Read also:
8 Good Reasons to Decorate Using Mirrors
Kitchen Counters: Colours, Patterns, Materials, Etc.