February 1, 2022
Trending styles for kitchen cabinets in 2022
Thinking about giving your kitchen a facelift? The easiest way is to refresh the kitchen cabinets with a new coat of paint.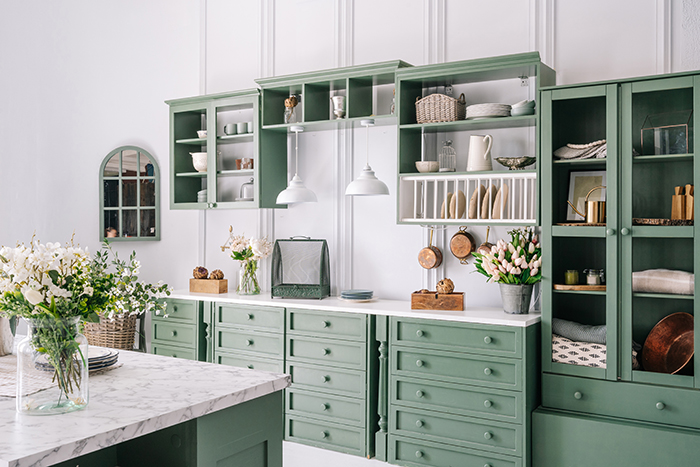 Before choosing the colour, are you planning on making any other changes to your kitchen? If so, keep in mind the future changes and adjust the paint colour accordingly.
2022 kitchen trends
What's in style right now for kitchens is using natural materials like wood and stone to create a traditional or modern look. There's also a focus on custom kitchen backsplashes and adding artistic or vintage touches to a modern home.
Marble kitchen islands, hybrid islands combining functional space and table space, and luxury accessories are all trends making their way into our kitchens in 2022.
Whether you're just repainting your kitchen cabinets or rethinking the entire space, it's important to consider the room as a whole when choosing your colours.
Forest green makes a comeback
Forest green is popping up everywhere lately; we're even seeing companies like Porsche offering new models in forest green.
The kitchen is no exception. This deep, rich shade gives your cabinets an antique, dignified feel. It pairs perfectly with stone countertops and accentuates specially chosen handles.
Deeper shades are in
Green isn't the only colour giving way to darker shades—the trend is leaning heavily toward deeper shades in general for cabinets in 2022.
Deep, rich shades really bring out the warmth of natural wood. They also emphasize any luxurious accessories you may have incorporated into your kitchen decor (another trend in 2022).
Natural shades
If you prefer a brighter kitchen, you'll be happy to hear that natural shades are also popular this year. These distinctive shades really lean into the vintage look. They create an effortlessly harmonious look when paired with natural materials like solid wood.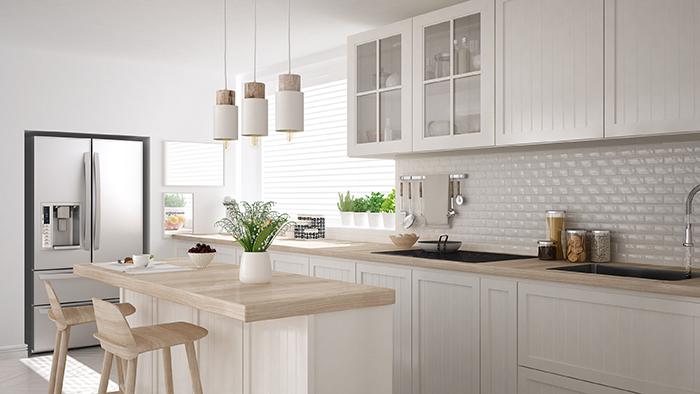 Warm white
No shade could ever replace white in our kitchen decor. In 2022, cool whites give way to warmer white tones.
Neutral shades
Simplicity remains essential when it comes to designing your trendy kitchen in 2022. Alongside warm whites, neutral colours will add a contemporary feel to your kitchen and cabinets. They can also easily fit into your next decor!
Which shade to choose?
Forest green, warm whites, natural shades and neutral tones: how to choose the right paint? Get inspired by on-trend colours for your kitchen cabinets and create a look that incorporates all the elements of your decor.
Is your counter made of solid wood? Is your kitchen backsplash dark? Is your kitchen retro? These are all factors to consider when designing your kitchen in 2022.
---
Are you passionate about real estate? Subscribe to the Centris.ca newsletter now.
See also:
Choosing your kitchen backsplash
8 ways to modernize your kitchen cabinets
How to Optimize Kitchen Counter Space