March 27, 2017
Understanding the Industrial Style
The industrial style is all about creating atmosphere and a feeling of space. It also refers to colours, light, materials, wall and floor coverings, not to mention, placing and repurposing objects. Here are some instructions for integrating it into your home decor.
History
With roots dating back to the beginning of the industrial revolution, this style has become a classic in decoration. Since the 70s in the U.S. and the 80s in Europe, architects and designers have found inspiration in the furniture used by workers in industrial and printing plants. The robust, authentic materials were designed to withstand the test of time. This is one way to pay tribute to the industrial age and give your interior a unique look.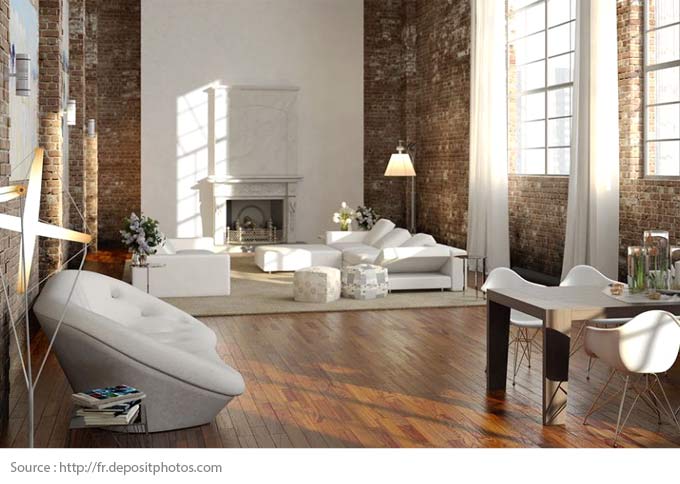 Vintage industrial decor
The strength of this design lies in large open spaces. Today's urban furniture is a tribute to authentic furniture from the industrial age. It preserves the spirit of that time with clean lines through which pipes and wires are clearly revealed. Rediscover large windows and skylights that define the space. Carefully select the lighting to match the sober furniture. Similar to old New York factories and warehouses, go for weathered finishes and raw materials for walls and floors such as metal, wood, concrete, zinc or steel. This style can be integrated into all the rooms in your home: kitchen, living room or office. And feel free to introduce it into any type of living space, even studios. It definitely adds character!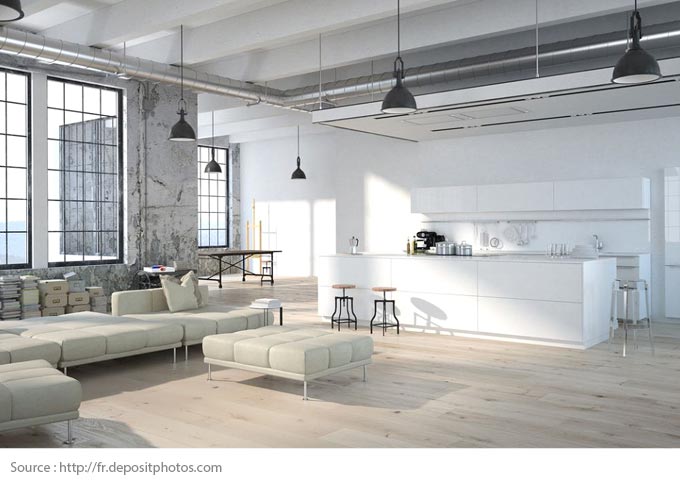 Factory furniture
Factory furniture is represented by various elements used by workers in factories, workshops and warehouses. Some of the essential items for an industrial look are stools and study chairs, printer's desks with multiple drawers, metal lockers or furniture on wheels. The idea is to repurpose the furniture to serve a new function. So, transform an old piece of furniture from a printing plant into a bar or kitchen counter, or place office stools under a dining table. Of course, you can also use the decor from the 20s and 30s in the United States, such as the famous leather Chesterfield sofa.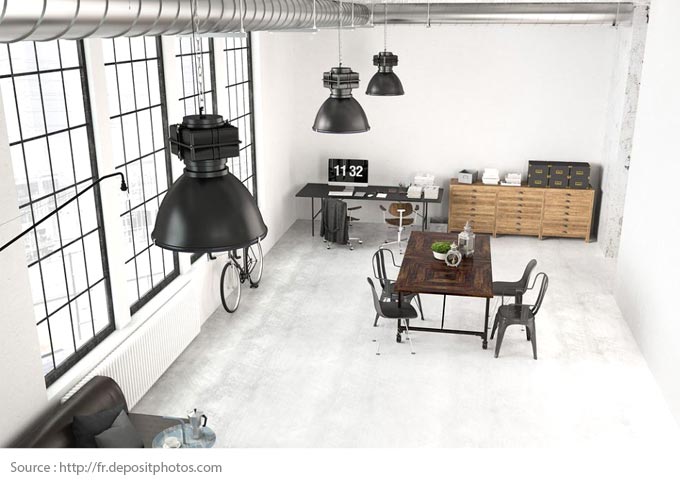 It's all about recycling!
The whole point of the industrial style is to recuperate old objects evocative of the blue-collar era and repurpose them. Each room in the house can use items unearthed at flea markets or home decoration stores. In other words, use the work light with the swivelling arm or the huge clock but don't forget the old typewriter, barber's mirror or storage boxes. Take advantage of accessories, tools or appliances with inscriptions and recall the glory days of the manufacturing industry. Use these objects with character to re-create a personalized atmosphere.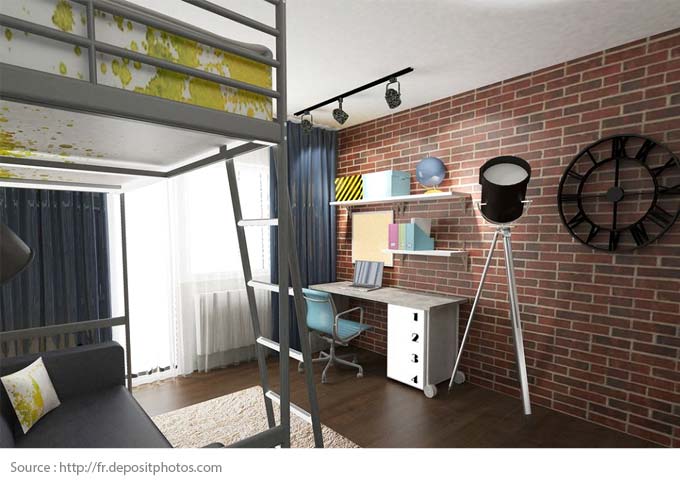 Like American artists, take the opportunity to give new life to furniture and objects. Use this modern powerful decor to create an industrial atmosphere at home!
See also:
How to Optimize Your Studio Apartment
5 Decorating Rules that can Easily be Broken