December 27, 2017
Wallpaper in the Kitchen? Why Not!
In addition to creating a warm and welcoming feel, wallpaper adds a personal and original touch to any kitchen. Discover the advantages of wallpaper, the different types of wallpaper, including the best options for a kitchen, the best places to hang it as well as some tips you should know before getting started.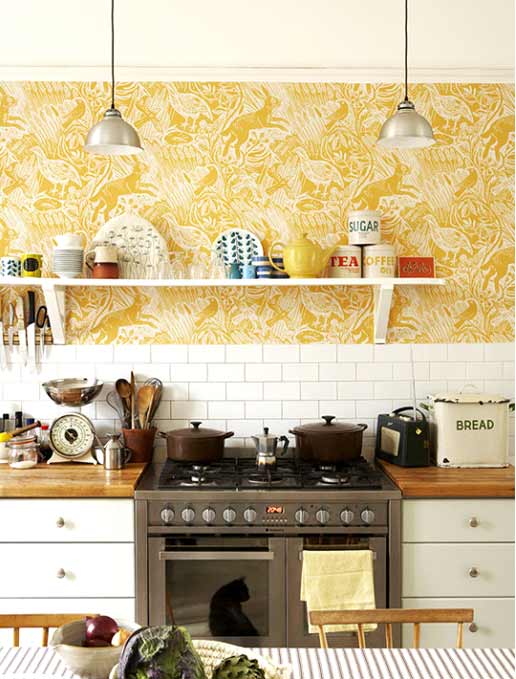 Source: http://www.countryliving.com
Benefits
Much to everyone's delight, wallpaper has evolved significantly in recent years. Here are just some of the advantages of using wallpaper:
Cleans easily and very quickly;
Creates an interesting visual effect: your room will suddenly appear larger;
Effective for concealing stains that you cannot get rid of;
It enables you to define a couple of distinct spaces in one room;
It can also be used for the interior of cabinets or a hutch, adding a decorative touch.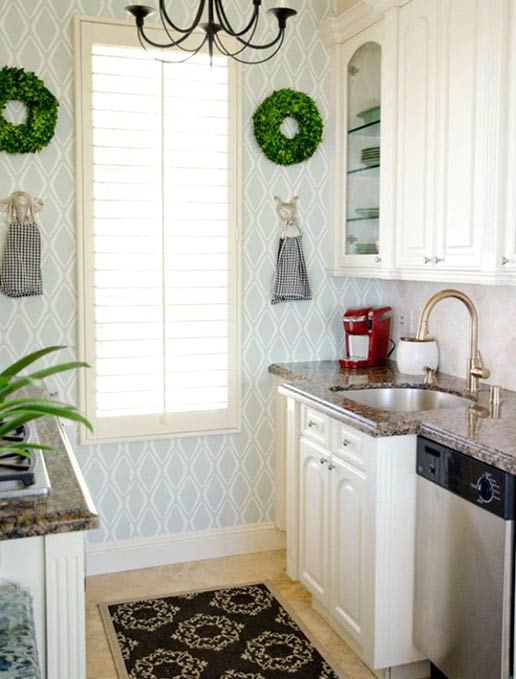 Source: http://www.cre8tivedesignsinc.com
The different types of wallpaper
Many types of wallpaper are now available. You are sure to find something you like that matches your needs and your budget. Here are some examples:
Paper: It is advisable that you use this traditional version of wallpaper in areas where there is not much traffic in your house, as it is more fragile and difficult to clean. Although it is the most cost efficient of all the options, wallpaper made of paper is not ideal for rooms that have a high humidity level, such as the kitchen or bathroom.
Textile: Made from a textile base, often silk or cotton, this wallpaper will give your room a completely unique look. A special glue that is specifically designed for this type of wallpaper is necessary for its installation. One of the more delicate options, it is best to use this wallpaper in areas that are least likely to get dirty (the wall behind the refrigerator, in cupboards, for example).
Vinyl: Made from a base of paper and a layer of vinyl on top to make it waterproof, this type of wallpaper is undoubtedly the best choice for a kitchen. Vinyl wallpaper can easily be cleaned with a damp cloth, and is resistant to light and moisture. A synthetic resin-based glue must be used when hanging vinyl wallpaper.
Non-woven: An interesting variant of textile wallpaper, non-woven wallpaper is made by the assembly of textile fibers compressed on a base of paper. It is probably the easiest to hang, since the glue is applied directly to the wall.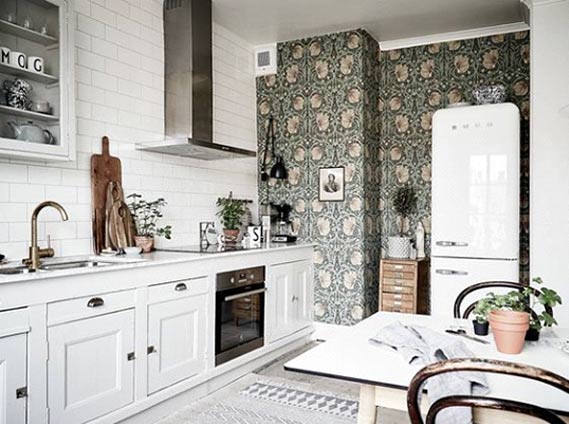 Source: http://gravityhome.tumblr.com
Trends
Whether it's an extra-large pattern, an illusion of depth, imitation wood, stone or brick, or geometric shapes, everyone can find a wallpaper style that suits their needs. Floral motifs are also very stylish.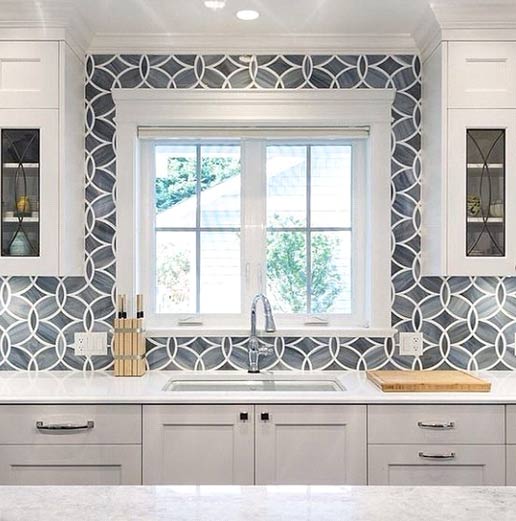 Source: https://www.instagram.com/p/8iV_uslMP3/
If you opt for wallpaper, don't forget to check the labels on the product you are buying, as they inform you of the proper glue to use, the features of the wallpaper (fragility, whether or not it can be used in a damp room, how to remove the wallpaper, etc.).
See also:
Your Kitchen Counter, Your Choice of Material
8 Tips for Creating a Modern Country Style