January 17, 2023
Winter Home Care Guide
Winter can be hard on a home. It's a good idea to prepare your home carefully for winter and keep maintaining it throughout the cold season. Here's a handy maintenance checklist for this time of year.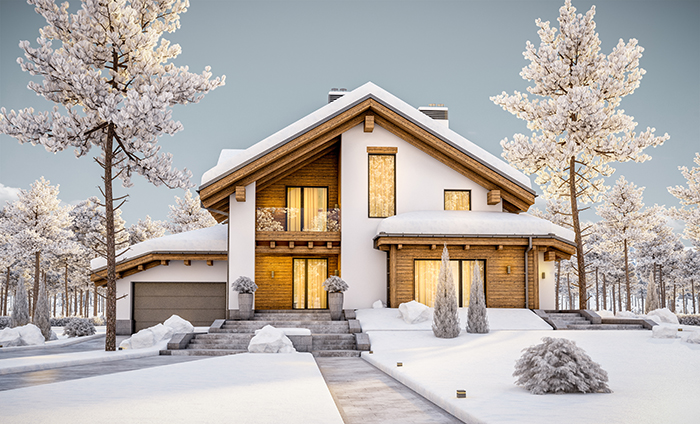 Clean the eavestroughs
To prevent snow and ice build-up or possible water infiltration, clean your eavestroughs thoroughly. Make sure they're in good condition and perform like they should at the right time.
Check the seal around your doors and windows
Even a tiny crack in the door frame can allow cold air to enter the house. Check your doors and windows and fix any problems to keep the heat in and the cold out! If you notice a lot of moisture in your home and fog on the windows, several solutions are available.
Inspect your roof and attic
Before too much snow falls, make sure your roof is in good condition and ready for winter. Inspect the attic or crawlspace for any areas of possible water infiltration. During the cold season, get the snow off your roof right away if necessary.
Check branches around the house
Snow-laden branches can break or damage the roof or other parts of your property. Heavy with snow, tree branches overhanging your home's electrical wires can damage or even break them. Inspect the perimeter of your property and be sure to hire a landscaper to safely prune back trees if necessary.
Turn off the water
Put away the garden hose and shut off the water supply to outdoor faucets. Make sure you know how to turn off the main water intake in case of a winter emergency.
Check your heating system and ductwork
Check each of your baseboard heaters to ensure they're clean and in good working condition. If you have a central heating system (or a heat pump), inspect it, or better yet, have it inspected by an expert. Take the opportunity to think about how to reduce your heating bill. Clean ductwork used for ventilation, range hoods, dryers, etc.
Have your chimney swept
To use a fireplace safely, you need to have your chimney swept at least once a year. A qualified chimney sweep can remove soot from the chimney and inspect your fireplace to make sure it's in good condition.
Lay down some mats
To protect floors, lay down mats in the vestibule and near all entrances. Mats are often all it takes to prevent damage from salt and gravel tracked in through the front door.
Check your smoke detectors
Use the switch to daylight saving time as a reminder to change your smoke detector batteries. If you haven't yet, do it now!
Other important tasks
To make the most of your property this season, why not set up your garage for the winter? Keep the door closed to keep out mice and squirrels that could damage your home. If you own a cottage, check out our checklist for closing your cottage for the winter.
For a complete winter home maintenance checklist, CAA Quebec offers a downloadable reference guide easy to print.
---
Are you passionate about real estate? Subscribe to the Centris.ca newsletter now.
See also:
When to clear the snow off your roof
How to insulate an existing home