June 20, 2023
Buyer or seller: who pays the real estate broker?
Whether you are buying or selling, real estate brokers can help you through all the
stages of buying
or selling a residential property, giving you total peace of mind. But once the process is complete, who pays the real estate broker?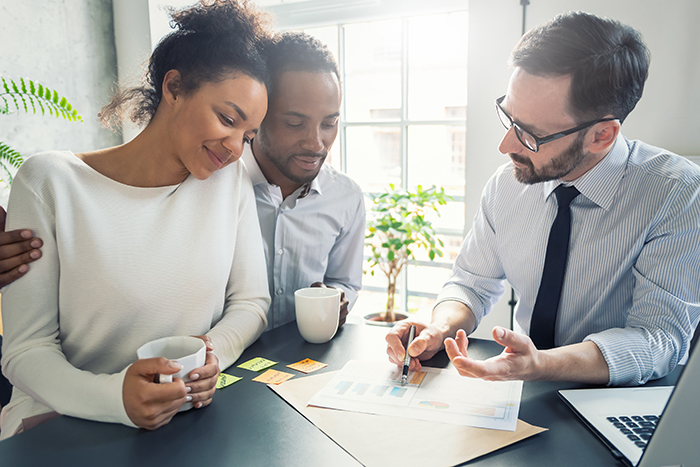 This article will explain who pays the real estate broker, the different payment options, and the advantages of working with an expert with in-depth knowledge of the real estate market.
1. Who pays the real estate broker?
As a buyer, if you have signed an Exclusive Brokerage Contract – Purchase, the remuneration of your real estate broker is usually paid by you. If the seller is also represented by a broker, remuneration sharing conditions will be discussed.
For more details, please consult this article from the Organisme d'autoréglementation du courtage immobilier du Québec (OACIQ). Don't hesitate to contact your real estate broker if you have any questions.
2. How to pay a real estate broker?
The Real Estate Brokerage Act allows the OACIQ to oversee the activities of brokers. However, it has no say over the amount a broker can claim as an intermediary in a real estate transaction, which is something you'll have to agree on together. Your broker will have you sign a sale, purchase or lease brokerage contract that stipulates the conditions.[1]
The OACIQ also states that this payment can take various forms, such as:
A percentage of the sale price—also known as a commission

A lump sum or fixed price

An hourly rate (the Annex RC – Remuneration and costs form will then be used)

A combination of these options
3. When should the real estate broker be paid?
The real estate broker is paid when the deed of sale is signed, i.e., when the Promise to Purchase is accepted, the financing has gone through, and conditions have been met by both parties. Please note that this sum is taxable.
4. What are the main advantages of working with a real estate broker?
A survey conducted in 2019 by the Leger firm in collaboration with the Quebec Professional Association of Real Estate Brokers (QPAREB) revealed that 82% of citizens planning to buy or sell a home in the next year intended to work with a broker.
A real estate broker's services and expertise are extensive. Here is an overview of what they do:[2]
Home marketing

Detailed analysis of the real estate market

Personalized advice

Drafting of legal documents
Buying or selling a home without a real estate broker comes with certain risks, which is why a broker is key to a successful and smooth real estate transaction. Ready to put your plans into action with the help of a professional? A quick, simple, and worry-free transaction is within your reach.
---
Are you passionate about real estate? Subscribe to the Centris.ca newsletter now.
See also:
Real estate brokers: an extensive network of experts at your fingertips
9 good reasons to team-up with a broker
A brokerage contract gives me peace of mind!