October 19, 2022
9 Halloween decorations ideas for the best indoor and outdoor decors
The changing leaves and cooler temperatures are a reminder that we are quickly approaching another spooky season of indoor and outdoor Halloween decorating. If you want to ditch the predictable Walmart halloween decorations this year and try something new, check out these creative and easy halloween decoration ideas.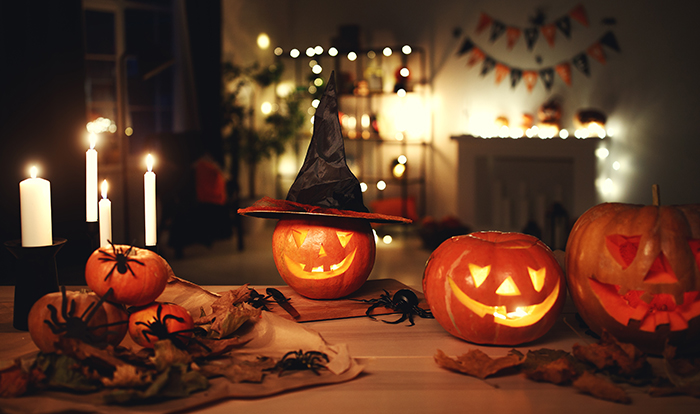 1. Giant spider web
Try making a spooky spider web using rope, screw-in eye hooks and a large faux spider. Attach the hooks to nearby trees or columns and loop the rope in a knotted web pattern. You may have to fiddle with it a little bit at first, but once you get the hang of tying the knots, you can weave it as little or as big as you want. Attach the large spider at the end to make a creepy impression!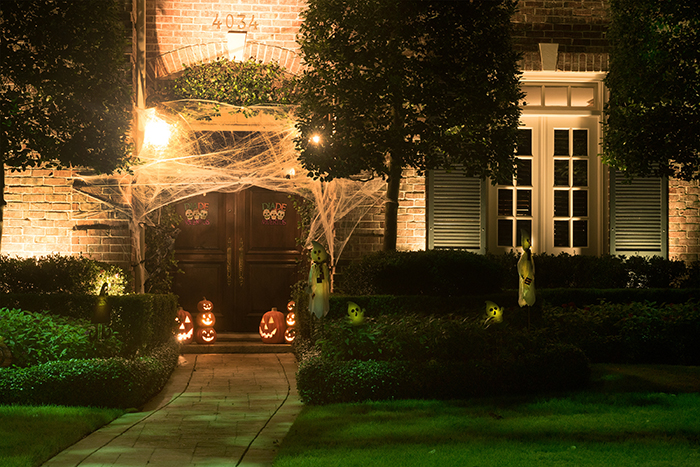 2. Wine bottle candlesticks
Spooky wine bottle candlesticks can be made by spraying black paint on leftover bottles and inserting orange taper candles. As the wax burns and drips, these DIY halloween decorations look more and more like they came straight out of a haunted house. Remember, for safety reasons, always keep candles away from flammable objects and never leave them unattended.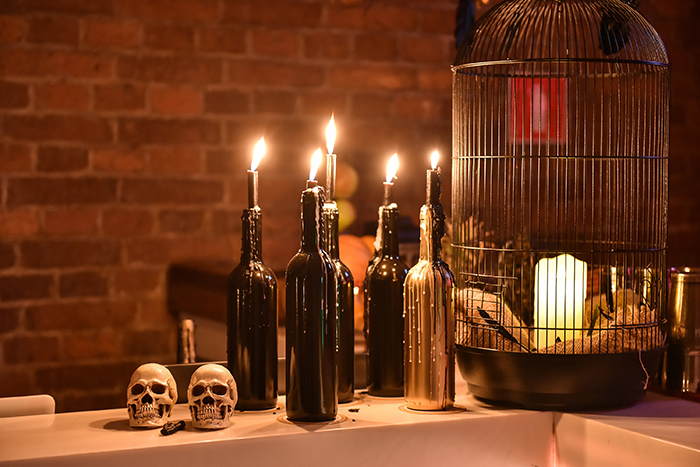 3. Halloween party punch
Blueberries tucked inside canned lychee nuts make "eyeballs" and water frozen in latex gloves makes hand-shaped ice cubes that will look very scary in your next Halloween party punch recipe. The combination looks so sinister, it doubles as a party decoration. The best part is that it tastes great!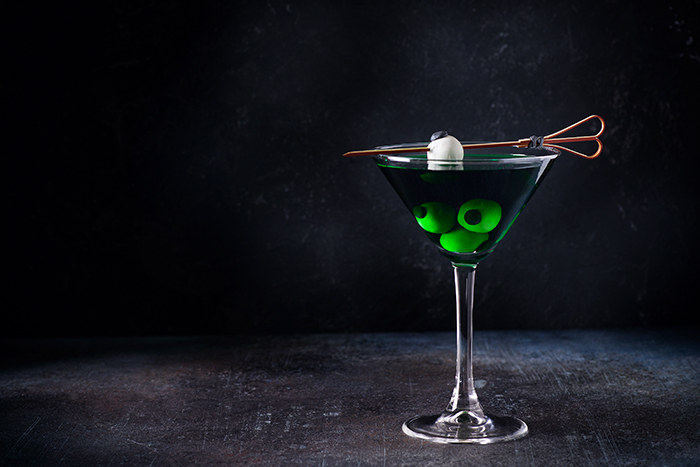 4. Halloween wreath door decoration
Adorning your front door with a seasonal wreath is popular, especially during the autumnal months when colourful foliage and gourds abound. A sweet Halloween door decoration idea is to hot glue old-fashioned wrapped candies in fall colours like red, yellow, orange and magenta to a 14-inch foam wreath form that has been wrapped in white ribbon. The candy wreath will really put the "treat" back in trick-or-treat!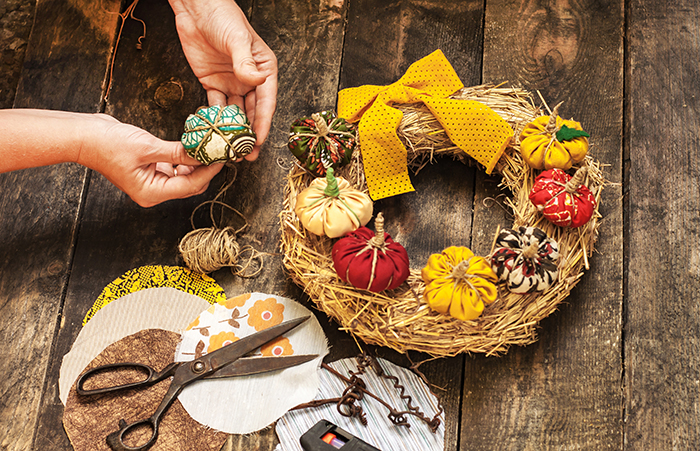 5. Bat branches in a vase
A simple and cheap Halloween home decor idea is to put twigs (from your backyard or a craft store) into a vase with a block of white foam. The branches can be left natural or spray-painted black for an even more dark effect. Hot glue black paper cut outs or tie six-inch pieces of black ribbon evenly across the branches, then paint small, beady red or white eyes on the "bats." Cover the foam with dried leaves.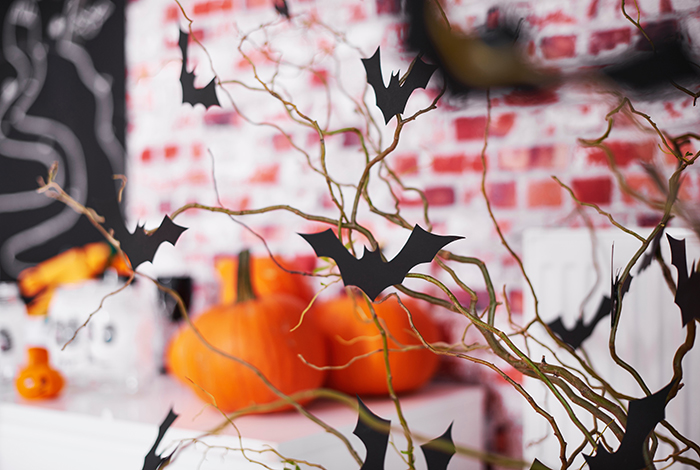 6. Tombstones
DIY chalkboard tombstones are easy and cheap Halloween decorations because all you need to make them can be found at your local hardware store. Start by cutting thin boards of wood into tombstone shapes with a table or circular saw. Paint the boards with chalkboard paint and then use chalk to create your tombstones with Halloween-themed names like "Ima Frade" or "Creapy Krawley." You can put these Halloween decorations indoors (such as underneath a fireplace mantel) or outdoors (framing the front door). If keeping them outside, be careful of moisture that can cause the chalk to fade and wood to degrade. Mix with pumpkins and flowering mums to complete the look.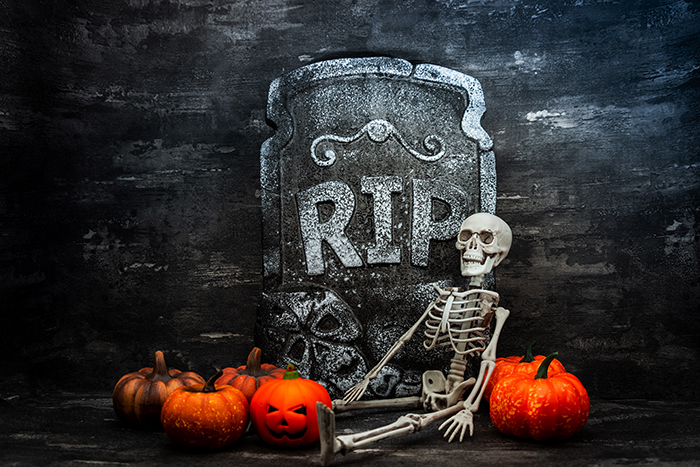 7. Skeleton hands
Frighten your neighbours to death with skeleton hands that are grounded by stake in your front garden or lawn. These are available seasonally at home improvement or party stores. Pile leaves on top of the yearning hands so the fingers look like they are breaking through the ground to reach for their next victim.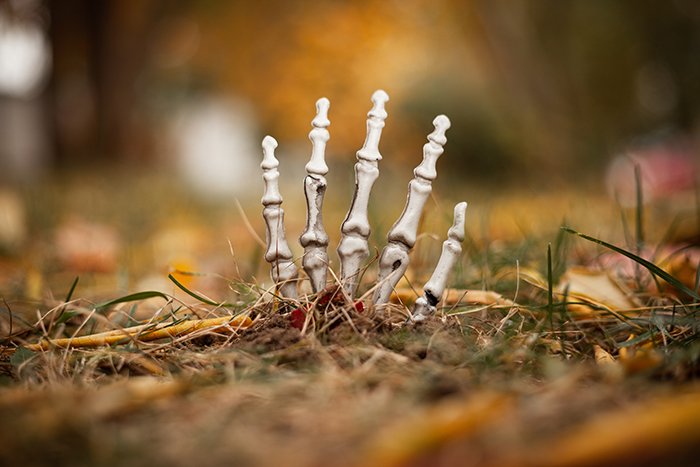 8. Inflatable monsters
Inflatable outdoor halloween decorations can be a larger-than-life way of adding some holiday fun to your front lawn! There are many different types and styles available online or in home improvement stores at this time of year. If you're particularly adventurous, you can try creating your own DIY inflatable halloween decoration using sheets of plastic, a hot glue gun, spray paint, duct tape and a fan to create your own monstrously scary scene.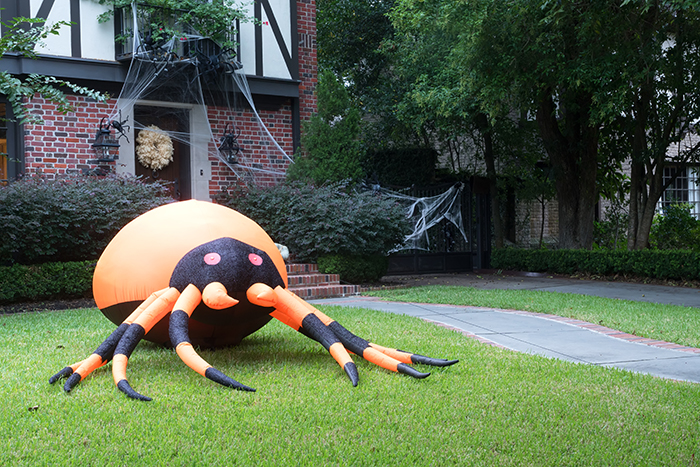 9. Cloche centrepiece
A cloche – another word for a bell- or dome-shaped cover – is a fairly inexpensive accessory available at most craft or home decor stores. Use cloches in a centrepiece or on their own combined with gothic trinkets to create elegant and haunting home decor.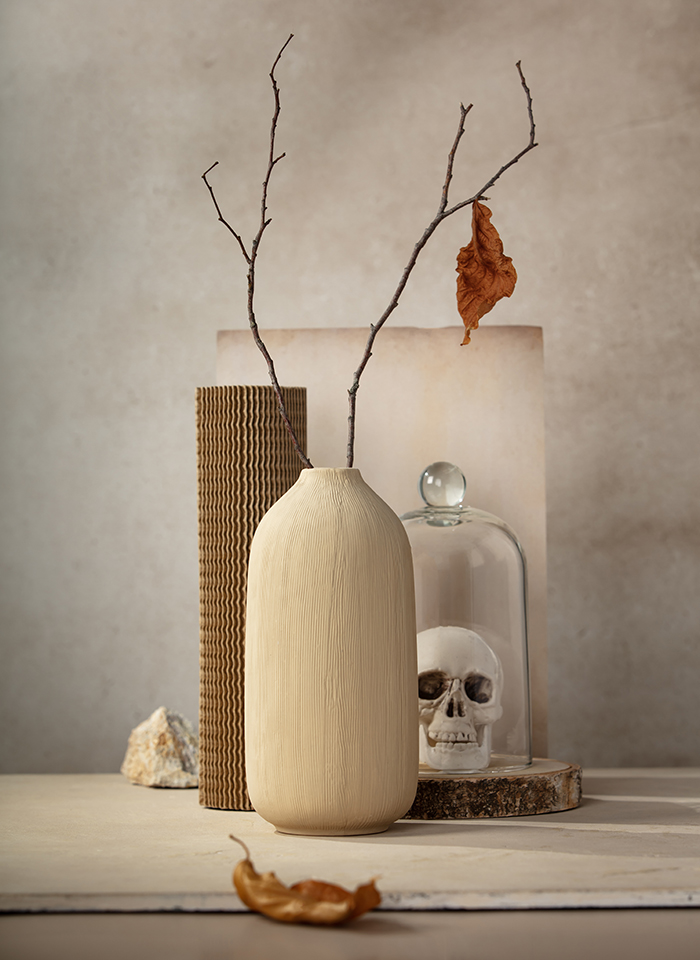 ---
Are you passionate about real estate? Subscribe to the Centris.ca newsletter now.
Halloween pumpkin carving basics with 35 inspiring ideas
19 easy DIY ideas to get creative with kids