March 21, 2023
How to renovate your bathroom without changing the tiling
Is tricky, time-consuming tile work complicating your
renovation project
and taking a toll on your wallet? Wondering how to
update your bathroom decor
without ripping out the tiling? Don't worry! We have a range of ideas on how to freshen up your bathroom decor without doing major work.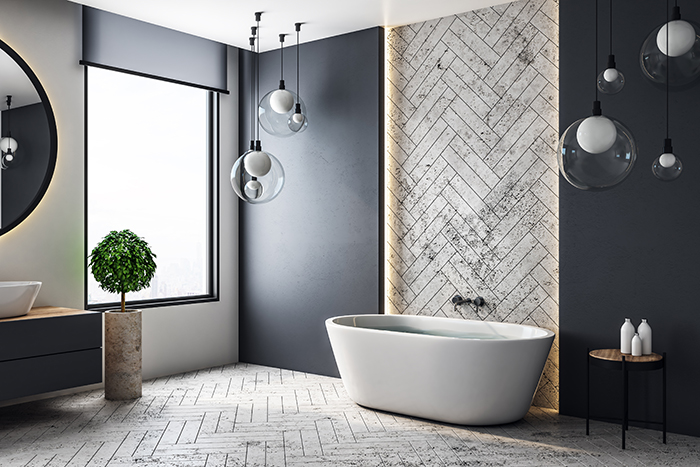 Walls
Add a mirror or frame to cover some tiles.

Place decorative accessories on the vanity to hide the surrounding ceramic.

Install a towel bar with bins at different heights or a pegboard to maximize storage while drawing attention away from your tiles.

Put up narrow shelves on a couple of walls.

Install waterproof wall panels with imitation wood, marble or other texture.

Consider self-adhesive tiles for surfaces that are not in contact with water. Try creating a pattern (lines, squares, etc.) that works with the current tiling so you don't have to redo the entire bathroom.
Flooring
Here are some ways you can refresh your flooring without ripping out your tiles. First, it's important to thoroughly clean the tiles and joints, remove mould, and sand the surface to remove any irregularities.
Floating floor
Consider covering your old tiles with a floating vinyl floor. This type of flooring is available in wood and other realistic imitation finishes. Before installing a floating floor, you will need to lay a foam underlayment to keep out moisture and cushion the floor. Since a floating floor doesn't adhere directly to the tiles, it's easy to remove if you ever want to give your tile a second chance.
Vinyl flooring
Vinyl sheet flooring is a great way to update your bathroom decor. You will need to adhere a plywood underlayment to the tile before installing the vinyl. However, this means if you ever want to remove the vinyl, you'll have to remove the tiles along with it.
A coat of paint
Painting your tiles is an affordable way to revitalize a room. Opt for a glossy finish, as limescale is more visible on a matte finish. Be sure to select a paint designed for use on tile. Clean the tiles, apply a primer and paint. Make sure to finish with a coat of clear sealer or varnish to maximize durability.
Resin
If you want a quick, lasting change, resin creates a waterproof seal and prevents mould. Sand the surface and then use a foam roller to apply the resin and hardener over the entire surface. Wait 24 hours and apply a transparent resin as a sealant.
Self-adhesive tiles
Self-adhesive imitation ceramic tiles are available in a wide range of patterns, colours and sizes. Before you buy, be sure to check that they are suitable for use on a bathroom floor.
---
Are you passionate about real estate? Subscribe to the Centris.ca newsletter now.
See also:
7 decorative mirror ideas for each room of your home
Bathroom decoration: Revamp ideas at low cost
15 tips for decorating your living room