January 5, 2023
The perfect cottage décor for cocooning
Your cottage can be a beautifully comforting, welcoming spot to cocoon and gather with friends. Let your décor create the right atmosphere for relaxing in warm, friendly interiors.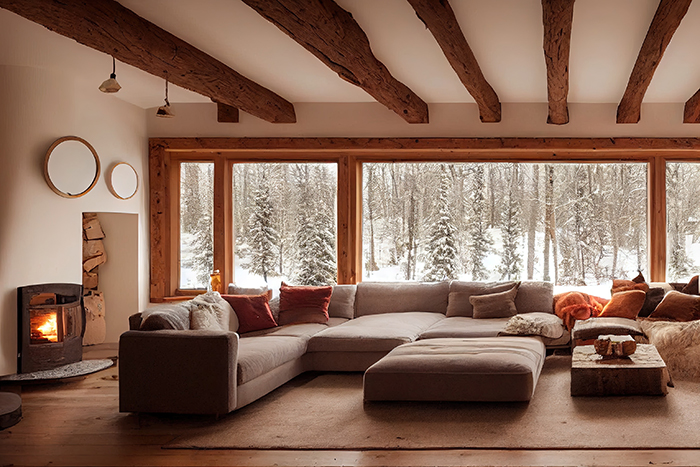 Decorating your cottage is not the same as decorating your main residence. The two properties serve different purposes. A cottage is a place to recoup and get away, a place where décor conducive to relaxation makes sense.
Check out our decorating tips to help turn your cottage into a celebration of your favourite style.
Chalet Chic
Pare it down! Keep your décor simple and cut down on the clutter by incorporating lots of storage.

Go for muted, serene tones such as taupe, ecru, white, greige, etc. Add a few pops of colour with accessories in natural tones like green or blue.

Opt for contemporary furniture such as a modular sofa or a designer fireplace.

Pare back window dressings to let the light in, and direct lighting upward to the ceiling for a spacious effect.

Use natural materials – wood, stone, etc. – unvarnished if possible.
Scandinavian style
Keep it simple. Let the rooms harmonize for a relaxed, friendly effect.

This look features the pervasive use of light wood on walls, floors, ceilings and furniture. Look for neutral and natural tones in shades of soft white to beige.

Accentuate the pale palette with metal elements such as a stool, side table, furniture legs, light fixtures, etc.

Stick to a

minimalist approach for wall storage, to free up floor space and keep the décor utterly simple.

Mix in layers of texture to cap off this soothing, cocooning style.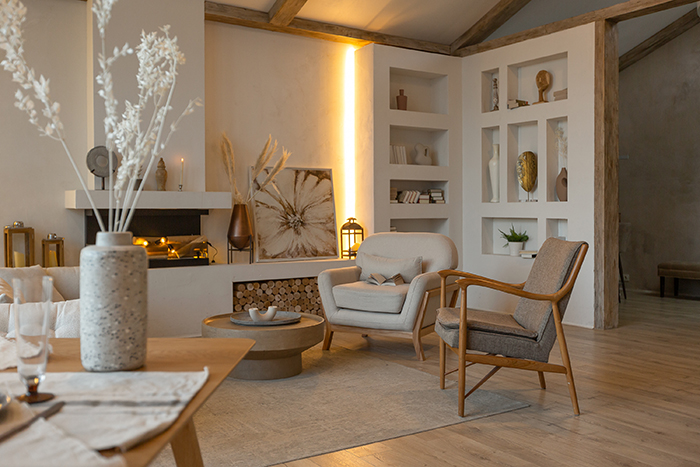 Modern style
Let white pervade, but take a risk with ultra-colourful décor elements or an all-black wall.

Lend nuance with raw materials such as wood and stone, with contrasting warm and cold tones. Throw in a few swathes of leather. Finish off with soft fabrics that invite relaxation.

"Go big or go home," but only with one or two interior design elements. Consider an oversized mirror, a large art piece or a spectacular chandelier.

Instead of a large sofa, select multiple armchairs with footrests that you can reposition to suit the occasion.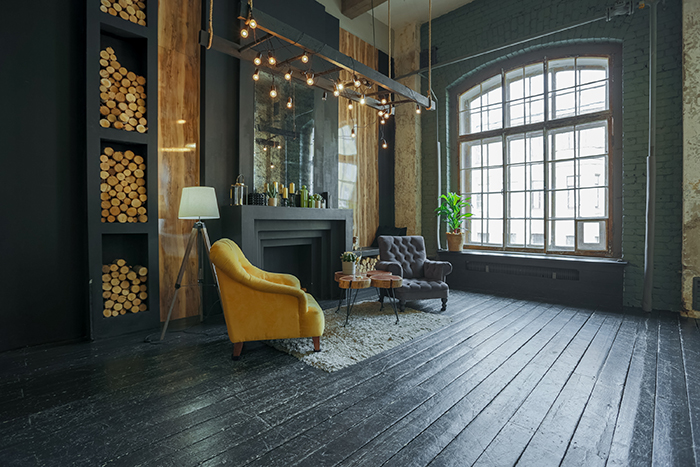 Now that you have a décor in mind for your cottage, all you have to do is start. After that – relax and enjoy the results!
---
Are you passionate about real estate? Subscribe to the Centris.ca newsletter now.
4 great living room ideas for your home in 2022
5 ways to add colour to your living room
Ever thought of buying hanging chairs? These are the best ones!