May 25, 2023
Transform a small kitchen with these 5 reno tips!
Not everyone has the luxury of a spacious kitchen with a large island and lots of cabinets. However, it's not the size of a kitchen that counts but how homeowners maximize the space to meet their needs. A kitchen can be stunning even if it's small. Here are 5 reno ideas for small kitchens.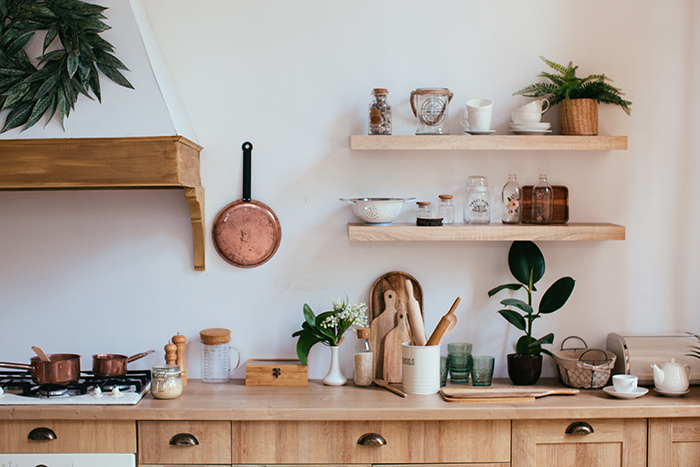 Take out a wall
One idea when renovating a kitchen is to take out a non-load bearing wall to make the space bigger. If you don't want to lose the functionality that a full wall provides, consider leaving the bottom half in place to create a breakfast counter. Add a breakfast nook with stools on one side and low cabinets on the other.
This opens up the kitchen and allows for an additional work surface.
Replace your cabinets with open shelves
Open storage options create a more spacious and airy look in a small kitchen. This reno tip only works if your cabinets are not overflowing. If your kitchen tends to err on the cluttered side, you may appreciate these tips for maximizing storage space.
If you want to keep your storage containers, you can remove the cabinet doors, which creates the feeling of more space while allowing for the same amount of storage.
Change your countertops
If your budget only allows for a small kitchen renovation, it can be hard to decide what will have the biggest impact without breaking the bank. In a kitchen reno, the countertop often fits the bill.
If you don't want to spend too much, consider painting your cabinets and changing your countertop. Kitchen countertops are available in various materials, and you're sure to find one in line with your budget.
Install a new floor
If you're planning a kitchen reno, you may have considered installing a new floor. To create the impression of more space in a small kitchen, opt for a light-coloured floor that will reflect light. You might want to consider white ceramic or porcelain tiles, for example.
Enhance the lighting
Proper lighting doesn't just make the kitchen look bigger, it also makes cooking easier. Think about adding a pair of suspended light fixtures above a breakfast counter or kitchen island, installing track lighting on the ceiling and putting in LED lights under kitchen cabinets.
---
Are you passionate about real estate? Subscribe to the Centris.ca newsletter now.
See also:
Kitchen trends to adopt in 2023
These kitchen floors will make you want to switch up yours now!
The best countertop materials for your kitchen