May 30, 2023
Transform your bathroom into a relaxing oasis
Use our reno and design tips to turn your

bathroom

into a tranquil and relaxing space where you can unwind and relax. Here are 7 things to keep in mind when creating your oasis

.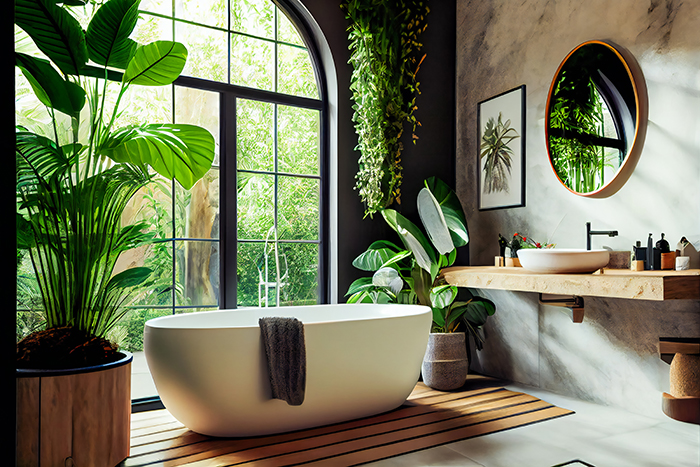 Bathtub
The bathtub is your bathroom's key feature. Choose a large, deep bathtub for ultimate relaxation. If possible, choose a freestanding bath, a clawfoot tub or an alcove bath. The choice of taps can influence the style of your bathroom. Make sure to think about where to place them to optimize space and comfort.
Lighting
Avoid lighting that is too cool or overly bright. Install dimmers so you can get the light level just right. You can also use an accent lamp on its own when you want more muted lighting. Create an inspiring and beautifully scented atmosphere by adding candles in areas that don't pose a fire hazard.
Furniture
Think about the furniture you'd like to incorporate and how it will influence your bathroom design. Opt for clean, sleek lines. White and light wood are always great choices.
To keep the bathroom free of clutter, choose simple, hidden storage options like closets, cabinets, drawers and storage containers. The less visual clutter, the more you'll be able to relax!
Materials
When decorating, choose natural materials that work well together, like wicker and wood, for furniture and accessories (soap dispensers, flower vases, etc.). Opt for ultra-soft, cozy towels.
Colours
Though white is often associated with calm, depending on the ambiance you're trying to create, you can also go with dark colours like navy, grey or green. Colours that are too vivid can be overstimulating when you are trying to create a calm energy. The most important thing is that you feel good in the room and that it fits your style!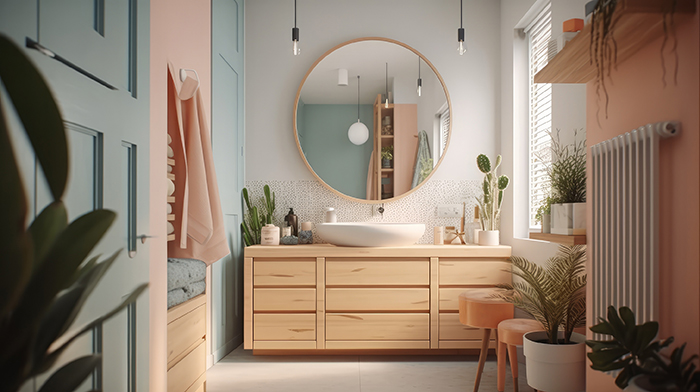 Flooring
Adding a heated floor makes a bathroom irresistibly inviting. Being able to put your feet down on a warm surface after getting out of a bath is the ultimate end to a relaxing experience.
Accessories
As a final touch, add an essential oil diffuser, plants, a bath caddy, candles, a large mirror or artwork, without cluttering the space. For a relaxing decor, less is more.
These decor ideas should help you create your true oasis!
---
Are you passionate about real estate? Subscribe to the Centris.ca newsletter now.
See also:
8 bathroom renovation mistakes to avoid
Bathroom decoration: Revamp ideas at low cost